Craig Watson
---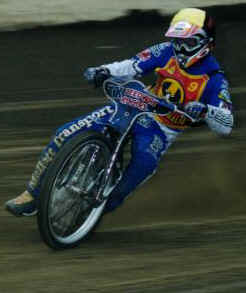 Sydneysider, Craig Watson (24) has seen the highs and lows of being a professional Speedway racer since climbing aboard a 'slider' to start racing at Gosford in 1992.
'Wato' first raced in the UK in 1997 for Premier team Newport with instant success however a broken leg mid-season slowed the 'Wasp' down somewhat. '98 and '99 were more prosperous and by the turn of the century, the Elite League beckoned. It was a move which proved disasterous as a nasty crash in his first match, left the newly acquired Poole 'Pirate' with an awkward arm injury which virtually ended his season. Now back and near fully fit, 'Wato' returns to Poole for 2001 to take up where he prematurely left off one year ago.
Career highlights................
Australian LongTrack Champ '98
NSW Championship runner up '98
3rd Aust. Solo Champs '97 and 2000.
5th Aust U/21 Champs '96
World U/21 quarter finalist. '97
Overseas Finalist 2000
Aust Solo finalist '96-'98, 2000,2001.