The History of Motorcycle Racing at the Brisbane Exhibition Grounds
Part 5A: The Lions v Kangaroos Ashes Test Series
The first speedway test between the Australian Kangaroos and English Lions was contested at Wimbledon, England in 1930. Despite a comfortable 35-17 Australian victory, the concept proved an instant success with British speedway fans.
Subsequent seasons saw Australia v England internationals pencilled in at famous venues including BelleVue, Stamford Bridge, Wembley and Crystal Palace. However, an official test series was not staged on Australian soil until the summer of 1934/35. Prior to the outbreak of World War II a total of five ashes series were contested down under.
Unfortunately for Brisbane speedway fans, these matches were confined exclusively to venues in Sydney and Melbourne. It was not until 1947 that Brisbane was awarded its first test when the Ekka hosted an English team captained by Jack Parker. Part 5 recounts this memorable night along with many other nostalgic Lions v Kangaroo battles staged through the years at the world famous Brisbane Ekka.
1947/48 1st Test Australia 57 v England 47 (06-12-47)
Australia 57 England 47
Bill Longley (Capt) 13 Jack Parker (Capt) 6
Andy Menzies 1 Bill Pitcher 12
Bill Rogers 15 Mal Craven 3
Charlie Spinks 6 Norm Parker 16
Dicky Smythe 12 Alec Statham 2
Ernie Brecknell 7 Oliver Hart 0
Dave Hynes (Res) 1 Dick Harris (Res) 1
Bonnie Wardell (Res) Dent Oliver (Res) 7
The 1st Test of the 1947/48 series was surrounded by controversy in as much as three of the original selections, Max Grosskeutz, Vic Duggan and Aub Lawson withdrew from the team following claims that the best Australian side had not been selected. Undeterred, the Australians made a flying start to the test courtesy of a superb Heat 1 win to Charlie Spinks in a record breaking time of 55 seconds. Drama unfolded in Heat 2 when Englishman Oliver Hart collided with the safety fence resulting in a fractured right forearm.

Further misfortune later struck the Lions when Alec Statham took a nasty tumble which severely damaged his bike. Statham was forced to withdraw from two of his allocated rides whilst frantic repair work was undertaken in the pits. However, it must be said that Australia also had its share of bad luck when Charlie Spinks was forced to miss four rides following injuries sustained as a result of his Heat 8 spill.

`Wild Bill' Rogers was in scintillating form for Australia, easily winning his first 5 rides before succumbing to Dent Oliver and Eric Brecknell in Heat 16. Rogers (15 pts) was ably supported by captain Bill Longley (13 pts) and local favourite Dicky Smythe (12pts). Norm Parker was the best for the Lions with a respectable 16 point haul. Prior to the match the Australians rated Norman Parker their most serious threat after he had smashed track records at all tour venues in lead-up events. The same Australian team, excepting Jack Biggs as replacement for Andy Menzies, went on to record an historic victory in the 2nd Test at the Sydney Sportsground.
1949/50 3rd Test Australia 72 v England 35 (21-01-50)
Australia 72 England 35
Jack Biggs (Capt) 14 Jack Parker (Capt) 12
Keith Gurtner 9 Cyril Roger 1
Graham Warren 16 Ron Clark 3
Ken le Breten 8 Oliver Hart 9
Aub Lawson 17 Fred Williams
Keith Cox 8 Dent Oliver 5
Bert Spencer (Res) 0 Howdy Byford (Res) 1
Dicky Smythe (Res) 0 Dennis Parker (Res) 1
English captain Jack Parker very nearly missed the 3rd Test in Brisbane after travelling north from Sydney by car to inspect a sheep station at Goondawindi. Parker was looking to acquire property in Australia but the venture nearly ended in disaster when local flooding sealed off most of the main routes. In an interview with the Brisbane Courier Mail, Parker was quoted as saying:

"We listened to news broadcast all day telling us that all roads from the Downs were closed because of the cyclone, and that no traffic could get through. But we found some roads that were open. They weren't on the map, but that didn't matter We just wandered along, and when we came to a spot we couldn't pass we turned back and tried another route."
English Captain
Jack Parker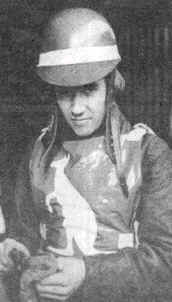 Parker eventually made his destination to join the rest of the team who had flown in earlier in the week. Unfortunately his arrival was insufficient to stop yet another mauling at the hands of the Kangaroos. The Lions had lost the first two tests in Sydney 67-41 and 76-35, but fancied their chances at the Ekka on a track they thought was more suited to their style. However the English team once again suffered a heavy defeat to the tune of 72-35. The only spirited opposition came from Parker (12 Pts), Hart (9 Pts) and Oliver (5 Pts).


For the Australians, Aub Lawson was a stand out performer in accruing 17 pts. His only defeat of the night came in Heat 14 at the hands of Oliver Hart. Lawson was well supported by Graham Warren (16 Pts) and Captain Jack Biggs (14 Pts). A crowd of 30 000 was well entertained despite a lopsided victory where the English won only three of eighteen heats. Despite a disappointing test performance, Fred Williams returned home to England where later that same year he won the 1950 World Final at Wembley.

Australian Captain Jack Biggs


1950/51 6th Test Australia 60 v England 48 (09-02-51)

Australia 60 England 48

Aub Lawson (Capt) 12 Jack Parker (Capt) 16
Keith Gurtner 12 Tommy Miller 16
Keith Ryan 10 Eric Williams 11
Charlie Spinks 10 Bob Fletcher 3
Keith Cox 8 Reg Fearman 2
Jack Gates 8 Fred Yates 0
Jack Waddell (Res) 0 Eddie Rigg (Res) 0
Lionel Van Praag (Res) 0
Superb team riding from the Australians saw the Kangaroos record a comfortable 60-48 victory over the top heavy touring English Lions. English captain Jack Parker was in great form for the visitors, setting up an excellent Heat 1 win in a new 3 lap track record time of 52 Seconds.
Parker and Miller were standout performers for England, both registering a creditable 16 points. However, the Lions tail failed to wag with their riders finishing last in fifteen of the eighteen heats contested. England was somewhat under strength when regular Number 5 Eddie Rigg was declared unfit after being involved in a road accident enroute to the 4th Test at Bathurst. Rigg lost control of the utility he was driving, wrecking the vehicle and four of the racing machines he was transporting in the back. Rigg escaped relatively unscathed but required 6 stitches to a leg wound.
The Australians were well led in the 6th Test by Captain Aub Lawson (12 Pts), who in turn was well supported by locals Keith Gurtner (12 Pts) and pioneering veteran Charlie Spinks (10 Pts).
1951/52 4th Test Australia 66 v England 41 (02-02-52)
Australia 66 England 41
Keith Ryan (Capt) 10 Jack Parker (Capt) 9
Keith Cox 8 Malcom Craven 10
Aub Lawson 17 Bert Roger 6
Keith Gurtner 15 Cyril Roger 11
Lionel Levy 12 Ron Mountford 1
Jack Chignell 3 Gordon McGregor 3
Bonney Waddell (Res) 1 Arthur Bush (Res) 0
Steve Langton (Res) 0 Jim. Gooch (Res) 1
Leading up to the 4th Test, the Australians held a narrow 2-1 advantage in the ashes series. The Lions arrived in Brisbane with high hopes of leveling the series, but the Kangaroos strength in depth saw them clinch the ashes with a comfortable 66-41 victory. Australian captain Keith Ryan led from the front with a solid 10 points, but it was Aub Lawson who dominated proceedings with a commanding 17 points. Lawson convincingly won his first five rides before succumbing to the Lion's standout of the night, Cyril Roger in Heat 18. Local heroes Keith Gurtner (15 Pts) and Keith Cox (8 Pts) also turned in commendable performances for the Roos. Another local veteran, Charlie Spinks, had been selected in the original line-up but was forced to withdraw when admitted to hospital on the Tuesday night with severe stomach cramps.
Disaster struck for England in Heat 13 when their captain Jack Parker crashed headlong into the safety fence in front of Machinery Hill. The Sunday Truth 3rd February, 1952 reports: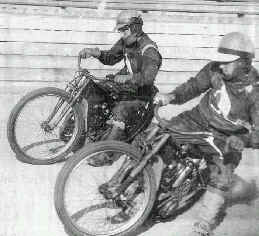 It was a thrilling duel with Lawson that Parker crashed in a bitterly fought heat. Parker had snatched a slender lead and clung to it tenaciously until Lawson raced through on the inside as Parker swung wide into the Machinery Hill curve, and there were cries of horror as England's captain smashed into the fence."

Earlier the same evening, the two captains led their teams in a collection for the Australian Helsinki Olympic Appeal. The crowd was invited to throw coins into the large Union Jack and Southern Cross flags.
Keith Gurtner and Keith Cox Practicing
at the Ekka for the 4th Test

1952/53 3rd Test Australia 73 v England 35 (31-01-53)

Australia 73 England 35

Keith Ryan 13 Jack Parker (Capt) 15
Keith Cox 10 Val Morton 3
Aub Lawson 17 Ken McKinley 6
Keith Gurtner (Capt) 10 Ron Mason 8
Lionel Levy 16 Maurice McDermett 2
Clif Watson 7 Tommy Miller 0
Bert Spencer (Res) 0 Ted Stevens (Res) 1
Syd Littlewood (Res) 0
The first two tests of the 1953 ashes tour were contested in Sydney where the English Lions received severe maulings on both occasions with scorelines that read 86-22 and 77-31. The tourists arrived in Brisbane hoping to restore some lost pride, but the Kangaroos once again emerged triumphant with an emphatic 73-35 victory. The win was relatively easy, courtesy of eight 5-1 heats in favour of the Aussies. At 47 years of age, Jack Parker was once again the mainstay of the Lion's outfit.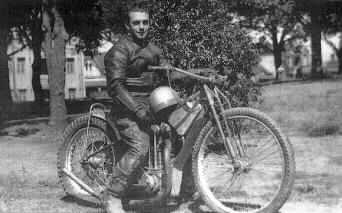 Excepting Ron Mason who had been flown out especially prior to the 2nd Test in Sydney, Parker was sadly lacking in support down the order. Lawson was once again at his brilliant best for Australia and went on to record a magnificent 17 points in front of an enthusiastic 14 000 fans. England's reserve for the 3rd Test was actually an Australian rider, Ted Stevens. Sadly, Ted was killed less than 3 months later whilst riding for Plymouth at St. Austell in the United Kingdom.
Australian Pocket Dynamo: Lionel Levy
1958/59 1st Test Australia 31 v England 29 (27-12-58)
Australia 31 England 29
Keith Gurtner (Capt) 12 K. McKinley (Capt) 10
Lionel Levy 7 Ron Mountford 8
Bob Sharpe 6 Gordon McGregor 6
Merv Andrews 4 Alf Hagon 5
Peter Dykes 2 Nick Nicholls 0
In a warm-up for the 1st Test, the Lions opened their 1958 ashes tour with an international challenge in Toowoomba. A strong line-up led by Ken McKinley easily accounted for a Queensland representative side, 42-18. The combatants certainly took proceedings seriously with both Gurtner and McKinley breaking track records on the night. The two teams met again the following night at the Ekka where on this occasion the Lions scraped home with a one point victory, 30-29.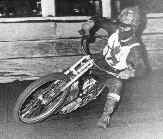 The 1st Test a week later was contested over a five rider, ten heat format. The result went right to the wire after the Australian's squandered a 10 point lead when ahead 29-19. The Lions literally came home with a wet sail when torrential rain set in during the closing stages of the meeting. English second strings Mountford and McGregor won the last two heats, yet Australia hung on gamely to register a narrow 2 point win. Australian captain Keith Gurtner led from the front with a 12 point maximum, whilst McKinley and Mountford dominated for the Lions.
Ken McKinley
1959/60 4th Test Australia 17 v England 43 (20-02-60)
Australia 17 England 43
Keith Gurtner (Capt) 5 Ken McKinley (Capt) 12
Bill Bryden 6 Mike Broadbanks 11
Bob Sharpe 3 Bob Andrews 7
Des Simon 3 Gerald Jackson 8
Jack Scott 0 Gordon McGregor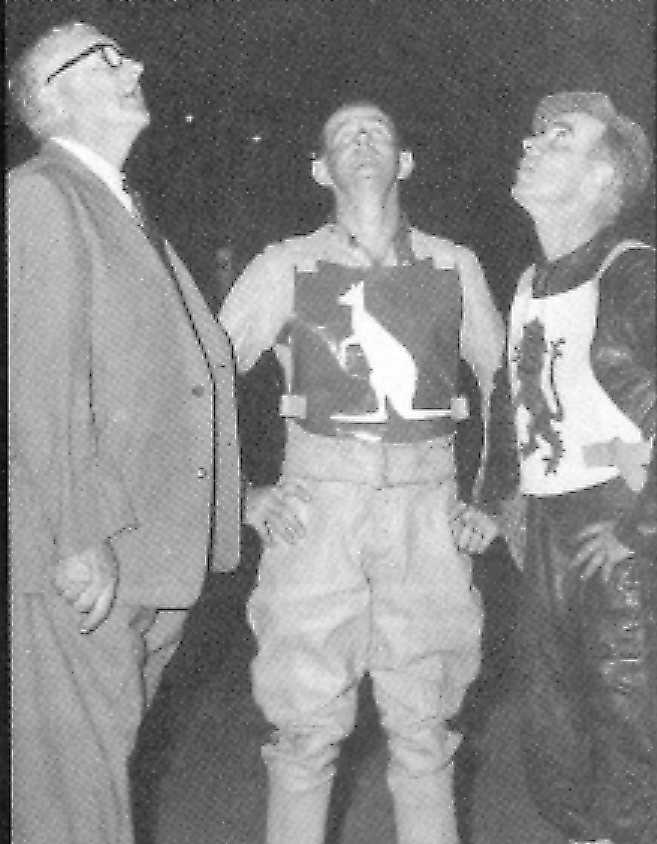 The 4th Test at the Ekka saw a rampaging Lions outfit march to its 4th successive victory over Australia. The win was particularly rewarding given that it was the Lion's first ever triumph over the Kangaroos in Brisbane. The English side's total dominance of the match is reflected by the fact that they won nine of the ten heats decided. Bill Bryden was the only heat winner for Australia, scoring 6 of Australia's 17 points.
Ken McKinley was in sensational form for England, easily rattling up a 12 point maximum. Broadbanks on his Ekka debut was also in splendid form and did not drop a point to an opponent all night. Following the test match McKinley's luck finally came to an end when he blew a motor whilst holding a 50 yard lead in the International Trophy race. Mike Broadbanks eventually went on to take the honours from Bill Bryden.
Gurtner and McKinley Toss for Gate Position
1959/60 5th Test Australia 18 v England 42 (27-02-60)
Australia 18 England 42
Keith Gurtner (Capt) 2 Ken. McKinley (Capt) 12
Bill Bryden 6 Mike Broadbanks 10
Bob Sharpe 4 Bob Andrews 9
Des Simon 3 Gerald Jackson 5
Lionel Levy 3 Gordon McGregor 6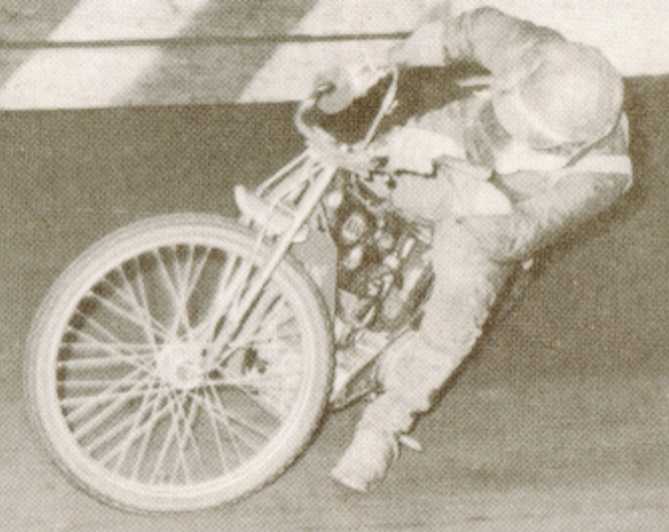 Australia suffered its second humiliating defeat within the space of a week when downed by England 42-18 in the 5th Test. The Lions wrote themselves into the record books by becoming the first test team in history to win 5 consecutive test matches. English captain Ken McKinley posted a four ride 12 point maximum and was well supported by the ever reliable Mike Broadbanks with 10 points. In stark contrast, Australian captain Keith Gurtner returned a very disappointing 2 points. Bill Bryden was the only Australian rider to taste victory on the night by taking out Heats 8 and 10. Bryden also managed to salvage some respect for the Kangaroos by beating McKinley in the top point scorer's match race.
Mike Broadbanks

1967/68 2nd Test Australia 62 v England 46 (25-11-67)
Australia 62 England 46
Jim Airey (Capt) 13 Nigel Boocock (Capt) 3
John Boulger 8 Roy Trigg 7
Gordon Guasco 14 Eric Boocock 10
Greg Kentwell 1 Terry Betts 4
Keith Gurtner 14 Ken McKinley 15
Jack White 4 Ray Wilson 7
Peter Ingram (Res) 8 Colin Pratt (Res) 0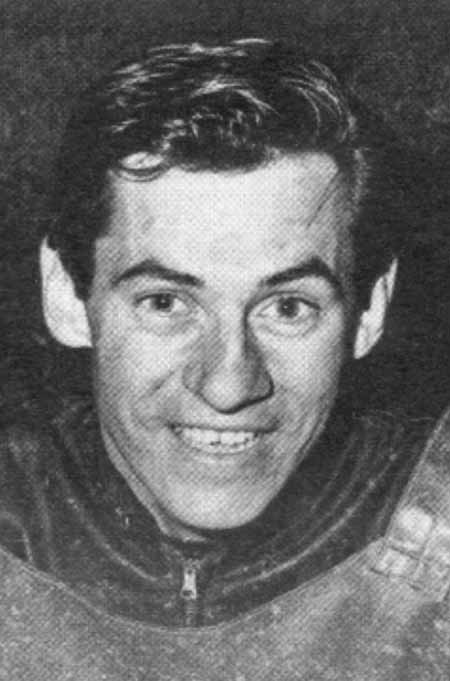 The 1967 Lions were always going to provide formidable opposition at the Ekka after narrowly taking out the 1st Test in Sydney, 54-53. The following week they turned in another impressive display with a 30-24 win against Queensland. Despite the odds, Australia bounced back at the Ekka with a comfortable 62-46 victory in the 2nd Test. Keith Gurtner at 46 years of age was in scintillating form for the Aussies with a 14 point haul. Local reserve Peter Ingram was hailed a hero when he defeated his more experienced rival Eric Boocock in Heat 11. In only his first A-Grade season, Ingram scored 8 points from 4 starts on his test debut. Fellow debutante, John Boulger, also performed well in scoring 8 points. Ken McKinley headed the scorechart for the Lions with 15 points, including a Heat 6 win in a new 3 lap record time of 51 1/5 sec.
Jim Airey
1968/69 4th Test Australia 51 v England 57 (11-01-69)
Australia 51 Great Britain 57
Jim Airey (Capt) 11 Ken Mckinley 12
Bert Kingston 8 Nigel Boocock (Capt) 16
Jack White 12 Eric Boocock 2
Kev Torpie 4 Jim McMillan 6
Charlie Monk 10 Bob Kilby 8
Les Bentzen 0 Mike Broadbanks 10
Brian Loakes (Res) 6 Dave Younghusband (Res) 3
The 1968/69 4th Test was full of incident and spectacle. The drama started as early as the pre-meeting practice when Australia's original reserve Greg Kentwell took a nasty tumble which resulted in him having to forfeit his place in the team.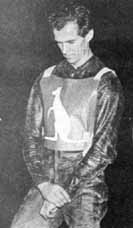 Brian Loakes who was present at the track was drafted in as the new reserve. Les Bentzen had earned his place in the Kangaroo starting line-up thanks to a maximum for Queensland when opposed to the Lions a week earlier. Unfortunately for Bentzen he was involved in a frightening Heat 1 crash with Eric Boocock where he sustained serious head injuries. This resulted in Loakes having to take Bentzen's remaining 5 rides. Despite Australia's troubles, England were in white hot form with Captain Nigel Boocock leading from the front with a solid 16 point haul. Popular Scot, Ken McKinley lent able support with 12 points, as did Mike Broadbanks who returned a very creditable 10 points.
Charlie Monk
1969/70 4th Test Australia 56 v England 52 (26-12-69)
Australia 56 England 52
Jim Airey (Capt) 14 Tony Clarke 13
Jack White 13 Ray Wilson 11
Bert Kingston 10 Arnold Haley 10
Doug White (Res) 11 Jim McMillan 8
Garry Middleton 6 Eric Boocock (Capt) 5
Charlie Monk 2 Ken McKinley 3
Steve Reinke 0 Howard Cole (Res) 2
The Australian Kangaroos won a fiercely contested 4th Test at the Ekka 56-52. There was never much between the sides until Heat 17 when a 5-1 courtesy of Jim Airey and Bert Kingston swung the match in favour of the Aussies. Airey and Kingston were the form pairing of the evening, getting the Aussies off to a great start with a 5-1 result in Heat 1. The advantage was nullified in Heat 2 when McKinley and Clarke leveled with a 5-1 of their own. At the interval stage Australia led narrowly with a scoreline that read 28-26. The determined Lion's outfit managed to stay in touch for most of the second half until Australia finally got the upper hand in Heat 17.
Jim Airey and Ken McKinley
THE STORY CONTINUES
The next installment to the `History of Motorcycle Racing at the Brisbane Exhibition Grounds' continues with further test action from 1970 until the present day.
Acknowledgements
Appreciation is extended to the following persons who assisted in producing Part 5A of `The History of Motorcycle Racing at the Brisbane Exhibition Grounds: `The Lions v Kangaroos Ashes Test Series'.
Research Assistance – Ross Garrigan and Barry Forsyth
References – Sunday Truth and Courier Mail
Selected Photographs – A special thanks to Peter White's Speedway World.
Editorial Comment - Barry Forsyth and Peter Henderson.
Written by Brett Garrigan
August, 2000
E-Mail brettg@gil.com.au