`The History of Motorcycle Racing at the Brisbane Exhibition Grounds
Part 4: A Review of Australian Solo Championships
In Part 4 of the series we take a trip down memory lane to review the 12 Australian Titles and Champion of Champion events staged at the Brisbane Exhibition Grounds. The story begins with Vic Huxley's popular win of the 1934 Australian Final and concludes with Craig Boyce's successful title defense in 1997.
1934 Vic Huxley Reigns Supreme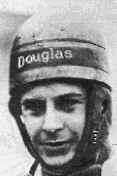 The 1934 Australian Solo Championship was contested over a series of five heats, two semi-finals and a final. The line-up included famous names such as Frank Arthur, Vic Huxley, Dick Case, George Greenwood, Geoff Pymar, Dicky Smythe and Frank Pearce.
At night's end there was no doubt that Vic Huxley was a deserved winner, having placed first in every race he contested. In Semi Final 1 Vic Huxley and Frank Arthur were involved in a furious scrap for 2 laps before Huxley eventually gained the upper hand over his arch rival. In Semi Final 2 it was Englishman George Greenwood who came out on top over Frank Pearce. The Final served up scintillating entertainment for a large and appreciative crowd as evidenced from the following extract taken from the Brisbane Courier Mail January 14, 1934:
"When the flag fell Greenwood careered away at a terrific bat, and holding the line in superb fashion, staved off determined challenges by Huxley in the first two laps. The Englishman swung a trifle wide on leaving the straight at the end of the second lap however, and Huxley drove his machine through the opening at a furious pace. It was the move of a master tactician, and by the time Greenwood straightened up, the Queenslander was three lengths ahead. Greenwood made a great effort to bridge the gap along the back straight, but Huxley revealed all his well known artistry and held the lead to the finish."
1934 Australian Championship Results:
Final: 1st V. Huxley (Qld), 2nd G. Greenwood (Eng) & 3rd F. Arthur (Qld). Time 55 3/5.
1947 Andy Menzies Takes the Honours

After a 13 year absence punctuated by the hostilities of World War II, the Australian One Mile Championship returned to the Brisbane Exhibition Grounds in March of 1947. The title was run over a truncated formula of three qualifying heats and a final.

1947 Australian Championship Results:
Final: 1st A. Menzies (Vic), 2nd C. Spinks (Qld) and 3rd K. Cox (Qld). Time 74.6.
1949 Aub Lawson Emerges Triumphant

The 1949 Australian Solo Championship was a real cliff hanger with both Aub Lawson and `Wild Bill' Rogers locked together on 12 points apiece after four rounds of heats. The title went right to the wire with Lawson and Rogers pitted against one another in a crucial Heat 20 decider. As the tapes went up Rogers was slowly away and had to force his way through traffic in order to get within reach of Lawson. Then just as the two riders were almost level pegging, Rogers clipped the Ernest Baynes Stand safety fence. Although `Wild Bill' managed to stay mounted, his chance of posing any further serious challenge quickly evaporated. When the final points were tallied Aub Lawson was champion with 15, Bill Rogers second on 14 and veteran Charlie Spinks third on 13.

In an incident packed Heat 10, Canadian Eric Chitty was involved in a spectacular pile up as he locked machines with Bill Braund and Dennis Parker. Although Braund and Parker emerged relatively unscathed, it was evident that Chitty was in serious trouble after landing awkwardly. Unfortunately, Chitty was transported to hospital with a fractured left leg. The timing also left a lot to be desired as Eric was due to leave Brisbane the following day for his return journey to England.
1949 Australian Championship Results:
A. Lawson 15; W. Rogers 14; C. Spinks 13; K. Gurtner 10; D. Smythe 9; N. Parker 8; B. Spencer 6; K. Cox 6; D. Parker 6; J. Arnfield 6; M. Bond 5; J. Chignell 5; B. Melluish 5; S. Langton 4; E. Chitty 3; W. Braund 3;

1951 Parker the Champion of Champions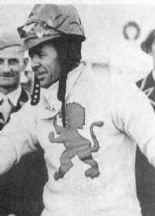 T
Thanks to the generosity of Australian Test Captain Aub Lawson, English elder statesman Jack Parker won the 1951 coveted `Champion of Champions' title at the Brisbane Exhibition Grounds. The 43 year old Parker punctured a tyre whilst contesting his third heat. Fortunately for Parker, Aub Lawson came to the rescue with a spare that enabled Jack to complete his 4th and final ride. On his way to victory Parker twice smashed the 3 lap Exhibition Ground track record. He recorded a time of 53 sec in Heat 1 and then lowered it further to 52 3/5 sec in Heat 2.
Parker was truly the Champion of Champions in 1951 after also chalking up victories in the 2 lap, 3 lap and 4 lap Australian Championships.


1951 Champion of Champion Final Points:
J. Parker (Eng) 11; A. Lawson (Aus) 8; T. Miller (Scot) 4; K. Ryan (Aus) 1.

1952 Aub Lawson Regains Title
Australian test captain Aub Lawson was crowned the 1952 Champion of Champions after recording a comfortable victory over arch rivals Lionel Levy, Keith Ryan and Jack Parker. Defending champion Parker was off the pace all evening and posed no serious threat to Lawson. The title was decided over 4 Heats with Lawson's only dropped point going to Lionel Levy in Heat 1.
Later that evening the same contingent lined up against local riders to contest the `Big Nine' qualifying heats and final. The semi-finals were marred by a horrendous crash involving Aub Lawson and Dicky Smyth. Smyth was leading the event when he fell directly in the path of Lawson who had no chance to avoid the stricken rider. Smythe emerged badly bruised and inspected his crash helmet to find it was virtually split in half. Further excitement was to follow when local hero Keith Gurtner won the spoils after an enthralling battle in the final. As the final got under way Gurtner's machine reared and he was left badly stranded at the tapes. Undeterred, he grabbed a handful of throttle and succeeded in rounding up both Levy and Lawson within two laps. Given his form on the night it is likely Gurtner would have presented a serious challenge to his rivals had he been eligible to contest the `Champion of Champions' event.
1952 Champion of Champion Final Points:
A. Lawson (Aus) 11; L. Levy (Aus) 7; K. Ryan (Aus) 3 and J. Parker (Eng) 2.

1953 Aub Lawson's Treble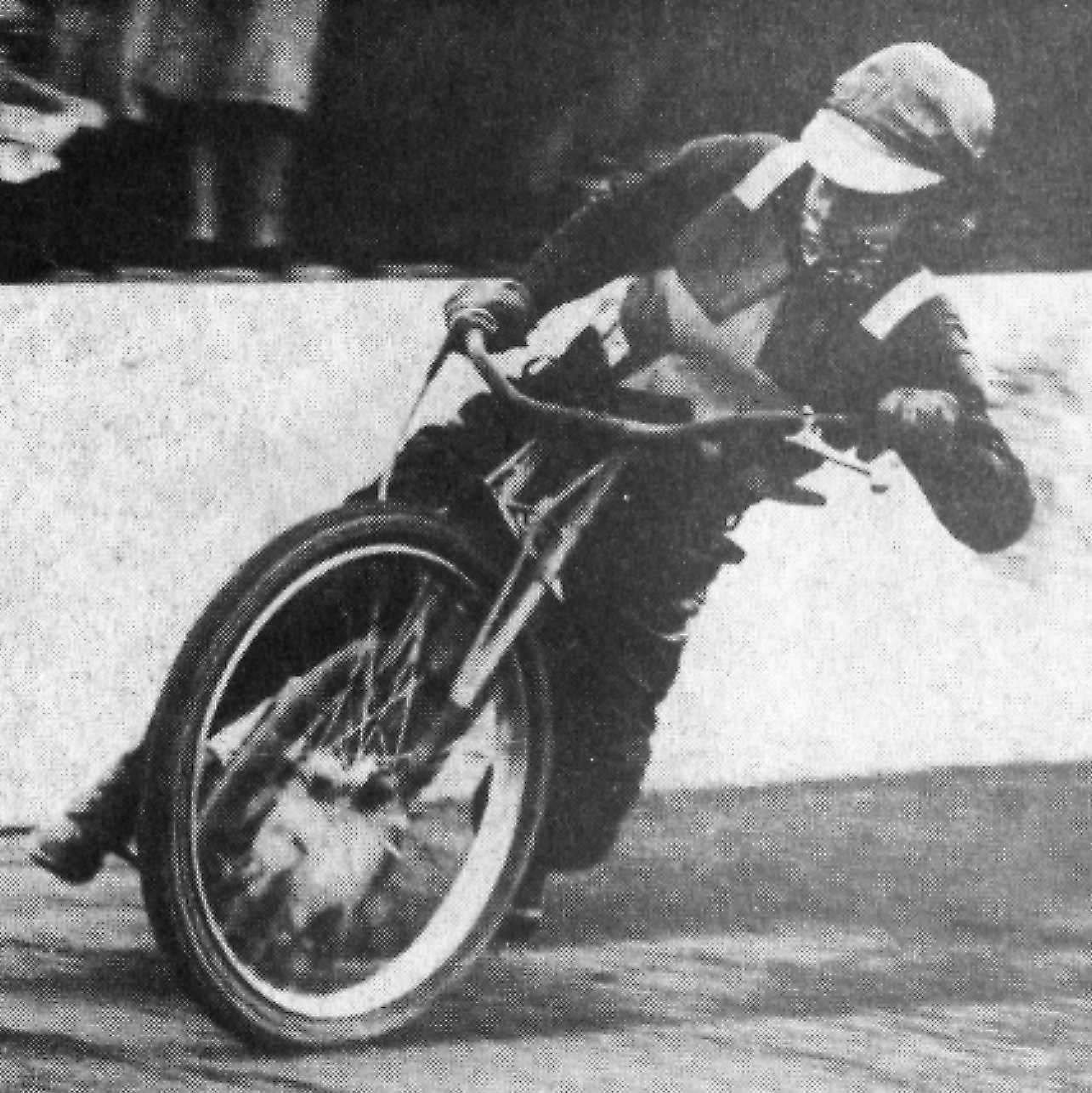 Aub Lawson showed his liking for the Brisbane Exhibition Grounds when he followed up his 1949 and 1952 successes by clinching victory in the 1953 Champion of Champions event. The title was contested over 4 heats between Aub Lawson, Keith Ryan, Lionel Levy and Jack Parker. Lawson was off to a flying start in winning Heat 1 and also managed to finish strongly by taking the honours in Heat 4.

However, Lawson didn't have it all his own way and was relegated to second place by Levy in Heat 2 and again by Ryan in Heat 3. When the final points were tallied it was Lawson's consistency which paid dividends.
1953 Champion of Champion Final Points:
A. Lawson (Aus) 10; L. Levy (Aus) 6; K. Ryan (Aus) 6 and J. Parker (Eng) 2.

1974 Reinke Untouchable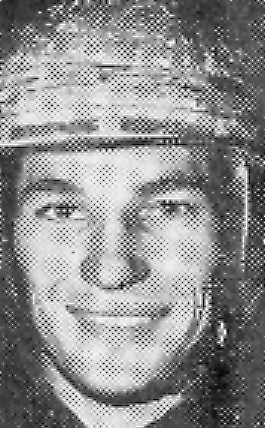 An inspiring 15 point maximum from Queenslander Steve Reinke was sufficient to wrestle the 1974 Australian Title away from twice previous champion John Boulger. Reinke and Boulger were locked together on 12 points when they met in a decisive Heat 18. Reinke made a good start and went on to record a comfortable tape to flags win. An impressive display was turned in by Phil Crump who registered 12 points for outright 4th place on the night.

1974 Australian Championship Results:
S. Reinke (Qld) 15; J. Boulger 14 (SA); J. Titman (Qld) 13; P. Crump (Vic) 12; J. White (Qld) 10; K. Torpie (Qld) 9; J. Langfield (NSW) 8; N. Street (Vic) 7; P. Thompson (WA) 6; B. Kluske (SA); P. Herne (NSW) 5; J. Dewhurst (Vic) 5; G. Taylor (WA) 3; D. Underwood (WA); P. Scanlon (SA) 2; S. Koppe (Res) 2; P. Johnstone (NSW) 1; B. Loakes (Res) 0.

1977 Titman's Popular Win

Local Ekka favourite John Titman returned a perfect 15 points to comfortably account for his main rivals in Phil Crump and Billy Sanders. Sanders had dropped valuable points in Heat 2 when he lost to Phil Herne and Mick McKeon. Similarly, Crump lost points when defeated early in the piece by Sanders. Titman remained unphased and never put a foot wrong all evening.
1977 Australian Championship Results:
J. Titman (Qld) 15; P. Crump (Vic) 13; B. Sanders (NSW) 12; N. Coddington (Qld) 11 M. Shirra (NSW) 9; S. Koppe (Qld) 9; P. Herne (NSW) 9; M. Farrell (Qld) 8; R. Day (NSW) 6; M. Janke (Qld) 6; M. McKeon (WA) 5; D. Kennedy (Vic) 5; S. Moffatt (NT) 5; S. Mountford (NSW) 4; G. Middleton (Qld) 2; E. Argall (Qld) 1; D. Cheetham (Res) 0.
1981 Sanders Retains Title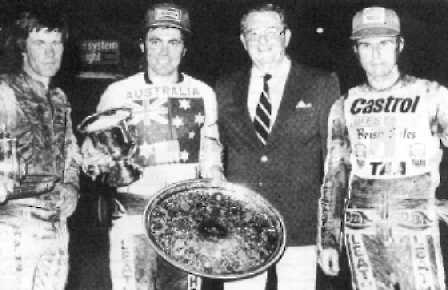 New South Welshman Billy Sanders clinched back to back titles with a stunning performance to win the 1981 Australian Solo Championship at the Brisbane Exhibition Grounds. Sanders comfortably won the championship on 14 points with Phil Crump second on 12 and John Titman third on 10. Local home town favourite John Titman gained his place on the podium via a runoff with Dan Kennedy after both riders tied on points. Sanders only dropped point of the evening came in his second ride when he was narrowly pipped by Titman. Fortunately for Sanders, both Crump and Titman dropped further points in Heat 15 when they were edged out by West Australian Bob Hitchcock.
1981 Australian Championship Results:
B. Sanders (NSW) 14; P. Crump (Vic) 12; J. Titman (Qld) 10; D. Kennedy (Vic) 10; P. Herne (NSW) 9; M. McKeon (WA) 8; S. Regeling (Qld) 8; G. Gugliemi (NSW) 8; J. Boulger (SA) 7; N. Coddington (Qld) 7; R. Maxfield (SA) 7; S. Koppe (Qld) 7; T. Nunan (Vic) 6; R. Hitchcock (WA) 3; G. McDonald (NSW) 2; L. Sansom (SA) 2.

1990 Glenn Doyle Clinches Back-to-Back Titles
Twelve months earlier Glenn Doyle had written himself into the record books with a magnificent Australian Title win at Newcastle's International Motordrome. Doyle clinched the title by pulling off a miraculous outside pass on Mick Poole on the last corner of Heat 20. Despite his credentials as a `never say die' rider and reigning Australian Champion, Doyle was not rated amongst the fancied contenders for the 1990 crown. The wily West Australian had other ideas and went on to prove the pundits wrong.
The 1990 Billy Sander's Australian championship was run on a balmy sub-tropical summer's night in front of an enthusiastic crowd of around 13 000 spectators. Everyone was treated to a feast of excellent racing as competitors vied for the coveted first prize of a brand new GM motorcycle sponsored by Trevor Harding of Kwiksnax.
The title itself remained in the balance right till the end when a run-off was required to separate Glenn Doyle and Leigh Adams who both tied on 14 points. As the tapes went up Doyle got the jump and went on to record a comfortable 5-6 lengths victory. The earlier heats were a different story, with Doyle having to do a lot of hard work from the back to earn his points. In an entertaining Heat 13, Phil Crump secured an early race lead but Doyle was always there about snapping away at his heels on the outside. Then in the blink of an eye Doyle switched back to the inside line to inherit a lead which he never relinquished. Doyle's only dropped point for the evening came in Heat 17 which pitted the three top point scorers: Davies, Adams and Doyle against each other. Davies got a blinding start and for a brief moment the title looked his for the taking. Then when exiting turn 2 on the second lap Davies picked up extra drive and shifted out towards the fence. Adams didn't require a second invitation and quickly slammed his machine through on the inside. Shortly after, Doyle snuck past Davies and was climbing all over Adams as the chequered flag fell. This set-up a run-off situation from which Doyle eventually emerged victorious.
1990 Australian Solo Championship Results:
Glenn Doyle (WA) 14; Leigh Adams (Vic) 14; Stephen Davies (NSW) 13; Phil Crump (Vic) 12; Shane Bowes (SA) 10; Mick Poole (NSW) 9; Jamie Fag (NT) 8; Glenn Baxter (NT) 7; Steve Regeling (QLD) 6; Steve Langdon (QLD) 5; Shane Parker (SA) 5; Scott Norman (SA) 4; Troy Butler (QLD) 4; Sean Wilmott (NSW) 4; Chris Watson (NSW) 2; Glynn Taylor (WA) 1; Darrin Winkler (Res) 1; Clinton Butler (Res) 0.
1993 Leigh Adams Defends his Crown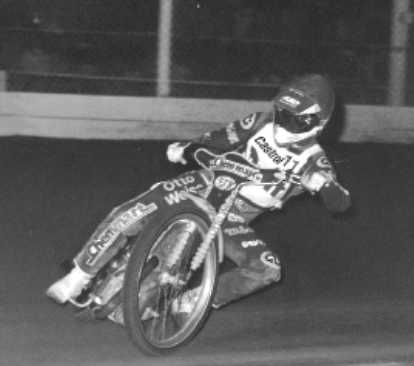 On January 30 1993, Victorian Leigh Adams recorded a splendid 14 points to defend the Australian Championship he'd won at North Arm 12 months earlier. Adams comfortably won the Championship from fellow state compatriot Jason Lyons, with Shane Bowes finishing third. Adam's only dropped point of the night came in Heat 2 when Scott Norman beat him from the gate on what at that stage was a very wet and slick track. After this minor hic-cup, Adams went on to record 4 straight wins in what was a very polished performance.
As far as Australian titles go, the 1993 event had its fair share of controversy. As early as Heat 4, local hero and pre-meeting favourite Troy Butler was left stranded at the gate after trying to anticipate the start. To Butler's dismay, the referee let the race continue and any title aspirations he may have had immediately disappeared out the window. The next talking point was Heat 14 which required three attempts to determine a winner. The race was stopped first time around when Stephen Davies clipped the rear wheel of Mick Poole's bike and high sided into the concrete safety fence in front of Machinery Hill. Davies suffered a fractured pelvis and took no further part in proceedings. In the second outing, a very exuberant Jason Lyons incurred the wrath of referee Des Leitch for `hard riding'. Lyons was third in the early running before bustling past Tony Langdon and forcing him infield. He then set off in pursuit of Poole and barged him out of the way as well. Langdon protested vehemently to the referee, whilst Poole was obviously pre-occupied with a bike which had just blown its big end. In an amazing turn of events, the referee decided to re-run Heat 14 with all three riders re-instated. At the third attempt, Poole wheeled out his spare machine which he used to good effect in reversing the tables over a very disgruntled Jason Lyons. Fortunately, this bizarre set of events had no real impact on the final outcome with Leigh Adams head and shoulders above all other riders on the night.
1993 Australian Championship Results:
Leigh Adams (Vic) 14; Jason Lyons (Vic) 12; Shane Bowes (SA) 11; Craig Hodgson (WA) 10; Troy Butler )QLD) 10; Mick Poole (NSW) 9; Craig Boyce (NSW) 9; Mark Carlson (QLD) 6; Tony Langdon (QLD) 6; Stephen Davies (NSW) 6; Mark Lemon (Vic) 5; Glenn Baxter (NT) 5; Scott Norman (SA) 5; Glenn Doyle (WA) 5; Shane Parker (SA) 4; Wayne Bridgeford (NT) 3; Clinton Butler (Res) 0; Mick Powell (Res) 0.
1997 Boyce Wins Third Australian Title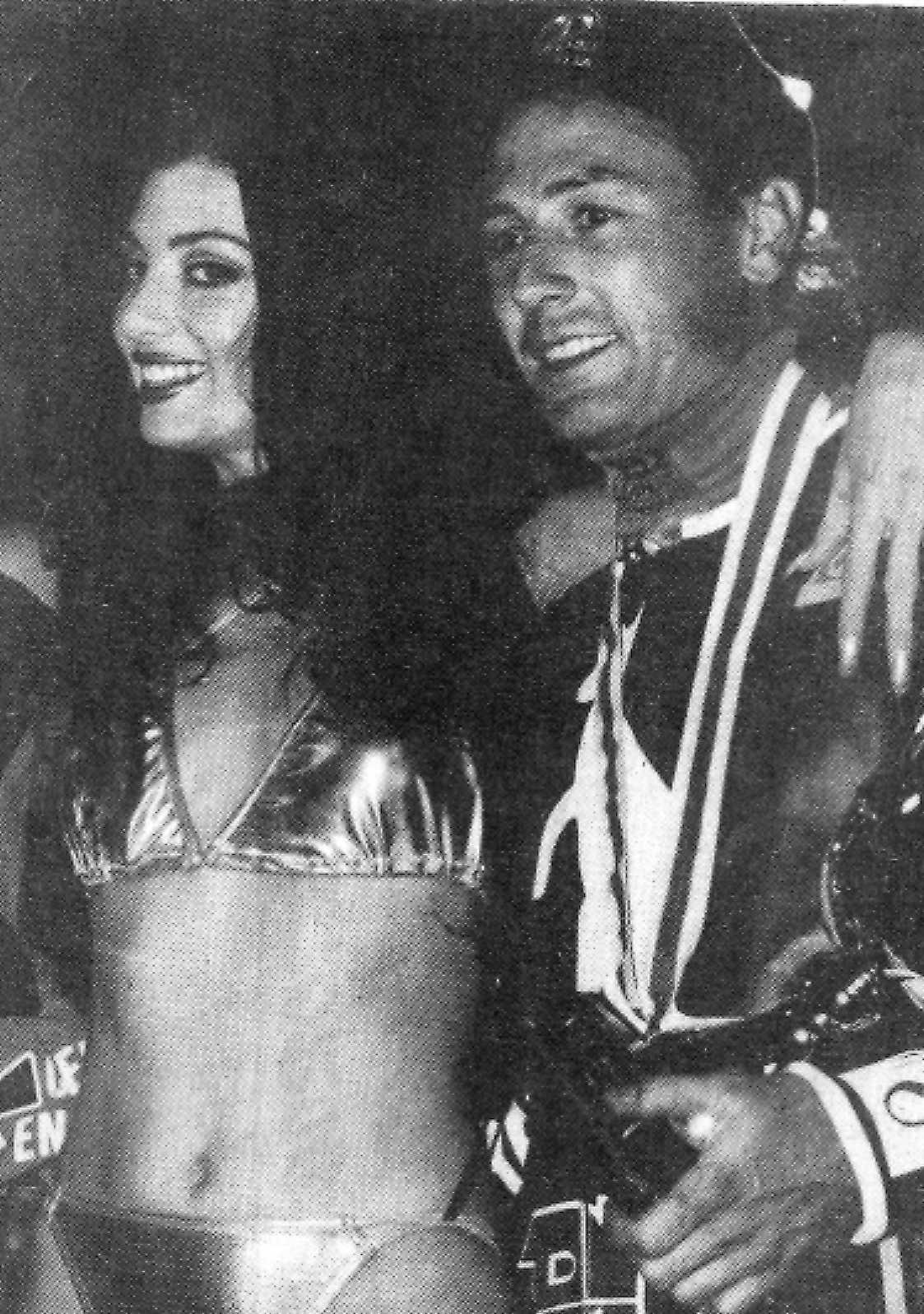 The 1997 Australian Solo Championship was won in convincing style by Craig Boyce with a 15 point maximum from Jason Crump second and Ryan Sullivan third. Boyce was making electric starts from the gate all evening. In fact, he was only headed once and that was briefly in Heat 4 when Shane Parker led for the first half lap. Not to be denied, Boyce reeled in his South Australian rival and actually eased down to greet the chequered flag. A three way run-off was necessary to determine the championship's minor placings, where the unlucky Leigh Adams missed out on a rostrum placing.
The riders had to work hard for their points all evening on an inconsistent track which deteriorated as the meeting progressed. The conditions certainly caught out a few of the more inexperienced competitors who kept ambulance attendants busy over the concluding stages. The first casualty was Jason Stewart who took a nasty tumble in Heat 14 after a feisty battle back in the field with Brett Woodifield. Acting on medical advice, Stewart retired from the remainder of the programme with concussion. In Heat 16 Lee Redmond crashed heavily into the unforgiving Ekka safety fence. Redmond was taken to hospital with a damaged pelvis and injured vertebrae in the lower back. Local reserve Paul Stewart took Redmond's place in Heat 17, but he too crashed heavily into the fence on the back straight. He was immediately placed in a neck brace and taken to hospital where he remained overnight recovering from concussion. Despite all the stoppages, 11 000 loyal speedway fans remained to the end to witness an exciting run-off which most regarded as the best event of the night.
After experiencing spirited opposition from Messers Crump, Sullivan and Adams, it was Craig Boyce who emerged from the Ekka as deserved 1997 Australian champion. The win was his third Australian crown in 5 years, following up earlier victories at Alice Springs in 1992 and Newcastle in 1996.
1997 Australian Championship Results:
Craig Boyce (NSW) 15; Jason Crump (QLD) 13; Ryan Sullivan (SA) 13; Leigh Adams (Vic) 13; Craig Watson (NSW) 10; Shane Parker (SA) 10; Jason Lyons (Vic) 8; Stephen Davies (NSW) 7; Mark Lemon (Vic) 7; Mick Poole (NSW) 6; Tony Rose (QLD) 5; Mark Keast (WA) 5; Brett Woodifield (SA) 3; Lee Redmond (WA) 2; Jason Stewart (Vic) 1; Matthew Johnson (NT) 0; Brent Collyer (Res) 1; Paul Stewart (Res) 0.

THE STORY CONTINUES
The next installment to the `History of Motorcycle Racing at the Brisbane Exhibition Grounds' relates some of the great test matches staged between the English Lions and Australian Kangaroos.
Acknowledgements
Appreciation is extended to the following persons who assisted in producing Part 4 of `The History of Motorcycle Racing at the Brisbane Exhibition Grounds: `A Review of Australian Solo Championships'.
Research Assistance – Ross Garrigan and Barry Forsyth
References – Speedway World, Sunday Truth and Courier Mail,
Selected Photographs – A special thanks to Peter White's Speedway World and Barry Forsyth.
Editorial Comment - Lee Morris, Barry Forsyth and Peter Henderson.
Written by Brett Garrigan
July, 1999
E-Mail brettg@gil.com.au