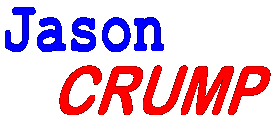 ---
Jason Crump was born in 1975 at Bristol, England, is the son of 4 time Australian Champ Phil Crump, and grandson of Neil Street, who built one of the first 4 valve Speedway motors, as well as being the Australian Team Manager for several years. Quite some Speedway family!
Jason learnt his craft in Mildura at Olympic Park Raceway where he was based until moving to the Gold Coast, Queensland, in '93. His determination to win makes him a spectacular rider to watch, and is quite capable of beating any rider in the world.
Jason started racing Speedway in '87 in the junior ranks and by the age of 17, was on his way to England for his first season of British League racing for Peterborough Panthers.

In 1999, Jason finished on top of the UK Elite League averages with a dominent performance for Peterborough and helping the 'Panthers' to three League Titles. He has finished his 2000 Grand Prix series in his best position to date as World # 4. Major highlights for '99 were winning the World Teams Championship for Australia and 1st in the prestigous Elite League Riders Championship..
For 2000, Jason successfully switched to JAWA machinery for his new UK Elite league team Kings Lynn, Gorzow in Polish Division One and Vargarna in the Swedish Elite league.
Career Highlights include;
Finalist in World Champs....individual'94, '96 and '98, Longtrack '94 and '95, then winning the British round of the'96 and '98 Grand's Prix
Winner of 2000 Swedish Grand Prix
'99 World Team Champion.
Winner of '99 International Speedway Masters Series (ISMS)
1st '99 UK Elite League Riders Championships
1st '99 UK Elite League averages
3rd Australian Championships '94
Australian Champion, '95
Qld. champ, '95,'96, '97 and 2001.
World U/21 Champion '95