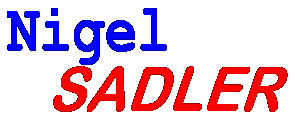 ---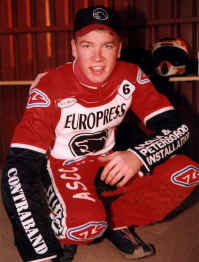 Nigel Sadler is a rising star with an impressive list of achievements at only 21 years of age. He arrived in the UK League, initially racing in Premier League for Peterborough, and in '99 followed the 'Panthers' to Elite. The afore mentioned 'achievments' comprise of Australian Championships in U/16 in '94, U/21 in '99 and in only his second appearance in the Aust. 500 Solo Champs Nigel snared 3rd place in '99. This gave him his first chance at the Overseas Final, but alas, he just missed the cut.
Nigel was also chasing the World U/21 Championship in '99 and breezed through the qualifier and Semi-final to be confirmed as one of the favorites in the all important Final. A third placing in that Final was a fantastic effort.
This young gun is simply getting better each year as his debut Elite League season proved. 2000 UK Elite average is up from 4.23 in '99 to 5.95.
Other credits include SA '94 U/16 Champ, 2nd in Aust. U/21 '97, SA Champ in '98 and 2000, and World U/21 Quarter and Semi Finalist in '97 and '98.

The 2000 European season is already planned with an expansion into the Swedish Elite League, riding for Vargarna, as well as a return to the Peterborough 'Panthers'.