---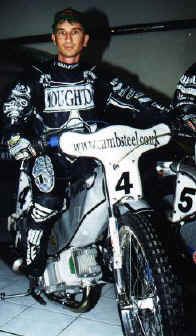 Shane Parker was born in Adelaide in 1970 where he started riding at a tender age, and as a fifteen year old, won his first national championship. Subsequently, Shane knew a career in Europe was the only path to further his Speedway prowess. The former S.A. State champion has since, carved out a very good career overseas, and continues to be a valuable asset for any team.
Was Australia's sole representative in the World Longtrack Grand Prix's for 1998,'99. Rode for UK Elite League teams Kings Lynn and Belle Vue in 2000.
Highlights include,
4th World U/21 champs '91
World Longtrack Finalist, '92, '96, '98 and '99
World Pairs Finalist, '94
European Grasstrack Finalist '94
1st Scottish Open Champ, '96
2nd Australian Champs '92
1st S.A. Champs '94, 2001
Aust. Solo Championship finalist '89-98, 2001
Shane is an entertainer and expert of the 'wheelie', and together with his determination, plus uncompromising riding style, is alone, well worth the price of admission to any meeting he partakes in.
Rides for UK Elite League team Peterborough, for Kaparna in Swedish Elite League, and Polonia Bydgoszcz in Polish Div. 1 for 2001.