The Sydney Showground Speedway........1926-1996
On Sunday November 19 the hands of time were turned back when Fox Studios (who now own the old Sydney Showground site) allowed veteran speedway devotees to pay tribute to 28 competitors who lost their lives - 15 of them solo speedway riders - at the official unveiling of a brass plaque in their memory.
The plaque overlooks the former starting tapes, alongside the Suttor stand (built in 1909) which is now a cafe restaurant.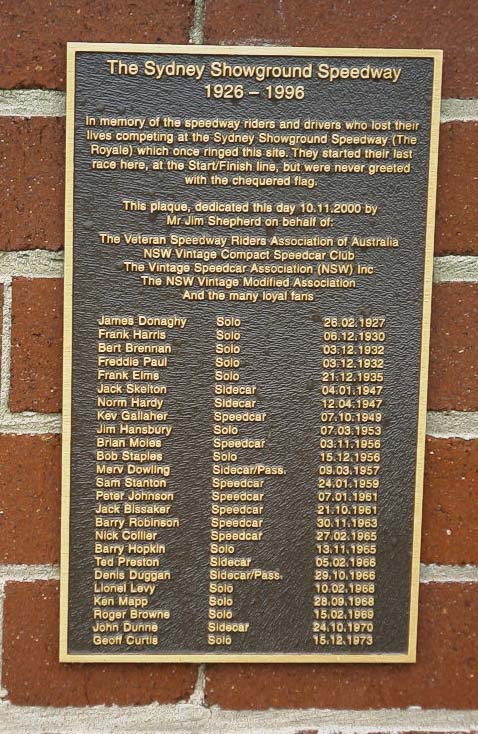 Solo riders missing from the above list are........
Stanley Tyler 13.11.26
Keith Mackay 22.12.28
Stuart Cobcroft 6.10.30.
In a fitting tribute, the day went well with 15 speedway bikes on display (joining two sidecars and various speedcars) including a shining example of a dirt track Douglas from the late 1920s, also a handful of JAPs - including a 1930s ex-Lionel Van Praag / Ces Garland machine - and two valve Jawas including the bike left here by Tommy Jansson in 1974.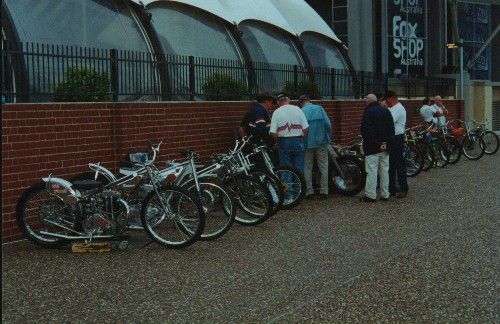 Some personalities attending included former promoter Mike Raymond, Greg Kentwell, Bob Andrews, Paul O'Neil, Jim Crowhurst, David Mills, Jack Helback and Carl Askew. Fox were reportedly very impressed by the day and have invited speedway back at any time.
Steve Magro