---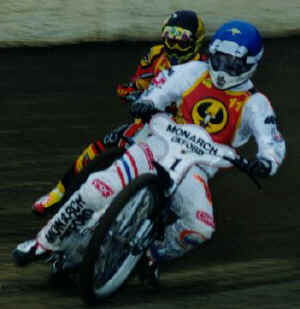 Todd returned to racing Speedway bikes in early '97, after a five year absence through the legacy of an horrific crash, which left Todd with terrible back injuries and multiple fractures of the Pelvis. Thankfully his Spinal Cord was not damaged, however, the injuries were bad enough, that Todd decided to retire.
In 1990, Todd was Australia's premier international rider after claiming third in the World Individual Championships, was British League rider of the year and finished second in the World Pairs Championships. However arriving back in Australia for the domestic season, Todd found himself in a form slump, missing out, ultimately, on the chance of riding in the next World Championship. His '91 season in Europe became very hectic, resulting in a few painful accidents, leading to the major crash back on home soil in the '91-92 Aus.Title at North Arm, in Adelaide.
As Todd was never far from the Speedway track during his retirement (he was guest commentator at tracks and Television Specials, also writing articles in magazines) there were many attempts at luring Todd back onto a bike, but all to no avail. Then came the news that he had sold up his house, quit his job and with his wife and two children, went to Europe chasing rides........on a Speedway bike. He based the family in Germany, and proceeded to pick up where he had left off five years earlier. His form defied logic as he began beating some of the best riders in the business. After unsuccessfully applying to ride in the UK, Todd rode, and won the German Championships in an attempt to gain a wildcard entry to the World Grand Prix series. That didn't eventuate, so in Continental Europe he stayed, competing admirably in selected meetings.
1999 started brilliantly for Todd as he snared his first Australian Championship Title, giving him a berth in the Overseas Final in June. Sailing through that next stage in the World Title qualifier with a fourth placing, Todd then went on to win the Inter-Continental Final, and with it, a place in the World Grand Prix series of 2000. '99 also saw Todd ride for Australia as they won the World Teams Championship. Has increased his UK Elite League average to almost 8.50 for Oxford in 2000. Is the 2000 NSW State Champion and ran third in the 2000 Aust Solo Champs. Has won his second Australian Solo Championship in 2001 at Murray Bridge.
Career Highlights.............
Aust. Pairs champ '91
Aust. Solo Champ '99, 2001
NSW Champ '90, 2000, 2001
3rd World Champs. '90
World Pairs Champs runner-up '92
World Team Cup Champ '99
Inter-Continental Champ '99
Elite League Riders Champ runner-up '99
German Champ '98, '99
Aust Solo Finalist '92, '98, '99, 2000, 2001.