-----------------------------------------------------------
[whats new][oz][euro][riders][Yguns][tracks][maps][calendar][icons][links]
-----------------------------------------------------------

Brent COLLYER Qld
Brent (26) started his racing career at the now defunct Chandler Stadium in Brisbane. The venue was used for the Brisbane team competing in the former Qld League in the early ninties. Brent's Father had raced Speedway for some time and it was a natural progression for his son to try the sport. His first ride was in 1991 and mainly competed in 'support races'. In '93 he ventured overseas and managed to ride a couple of meetings with an U/23 Australian troupe touring Continental Europe. He also competed in selected rides for some Second Division teams in the UK.
Brent was lured to the UK for '99 where he rode for Elite League team Eastbourne. It proved a rugged baptism in the toughest Competition in the World, but he still managed to keep his team spot for the complete season........ no easy feat.
In 2000, Brent won the Queensland Solo Championship at Labrador Speedway. He then was invited back to the UK and continued at reserve position for Eastbourne. Mid season, saw a chance to drop to the more favourable Premier League where Brent joined Arena-Essex. He was gaining much needed confidence back, before a season ending crash leaving him with a broken shoulder.

Mark KEAST W.A.

Mark rode for Swedish Elite League team Smederna for season's 1998 and 1999. Has proved his worth and in 2000 switched teams to Vargarna recording a 3.47 point average.. Has shone in individual meetings throughout Sweden.
http://clintonleitch.tripod.com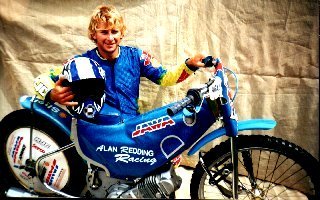 Clinton Leitch had a good Speedway year in 1998. Winning the Queensland U/21Championship in early August was the pinnacle of Clinton's Speedway career to date. After that result, Ivan Mauger took the twenty year old under his wing and placed him into his 'Golden Helmet International Series', giving the 'Engine Reconditioner' an experience of a lifetime. With helpful hints on bike preparations and riding skills while surrounded by some very obliging European riders, Clinton has now shown a more professional approach towards his Speedway with his own team uniform as well as a new set of Kevlars. However it's on the track that results are gained, and it's quite obvious that a more determined rider has emerged from the Mauger Series.
The born and bred Brisbanite has nearly always been around motorbikes, starting riding at 5 then progressing to Junior Speedway at 11-12, no doubt following in father Des' footsteps, who himself was quite a handy Solo rider. He alternated between the Oxley Junior Club and the Chandler Speedway, both in suburban Brisbane Qld. Along the way, Clinton won the '92 Qld U/16 Speedway Solo and Pairs Titles and had placed in the top four of every other Qld U/16 Title riden. In '93, he eventually won an Australian Title as U/16 Pairs Champion and is a 4 time Aust U/16 finalist. Since reaching the Senior ranks, his Speedway became a case of one meeting after another until the Qld U/21 win.
From there, it's been a strong learning curve, but his GM Laydown Bike is still not quite reliable enough, and a burning ambition to ride overseas has seen the positive move in aquiring a new Jawa Laydown.
Make no mistake, Clinton now has the hardware to show everyone what he's capable of.
Sponsors..........
Shell Advance, JW Products, Swann Insurance, HJC Helmets, Ipswich Motorcycles, Power Cycle Suzuki, Jenny and Des Leitch,


Ben PECK NSW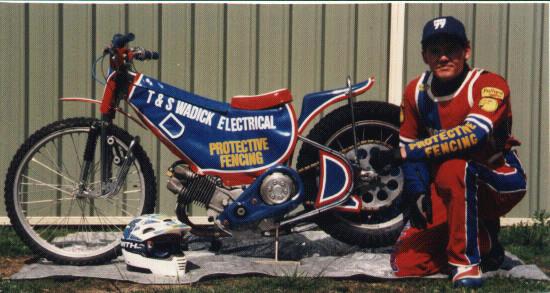 Ben Peck (22) started riding Speedway in November 1995 at Gosford NSW and is certainly keen on getting the most out of the sport, as he has riden almost every track in the State. Along the way, Ben has dabbled in Longtrack, and Dirt-track with excellent results. To date, Ben Peck's major success has been riding in the 1998 Ivan Mauger International Longtrack Series at Tamworth and Dubbo with a 3rd and 2nd respectively, in the National Solo division, as well as numerous race wins in Speedway, Longtrack and Dirt-track.
With the 2000-'01 season under way, Ben still has the desire to travel widely in search of rides. Longtrack racing is having a resurgence in popularity and he's very keen to chase the races. Riding both Longtrack and Speedway formats, Ben has certainly covered plenty of territory travelling to Pt.Pirie in South Aust., Shepparton in Victoria and many tracks throughout NSW. He has a new JAWA bike which should provide mechanical reliability.......something that has restricted his progress somewhat. Will be well worth keeping an eye on in the future as stronger results WILL be produced.
Sponsors...
T&S Wadick Electrical PTY LTD, Protective Fencing PTY LTD.
Mick POWELL QLD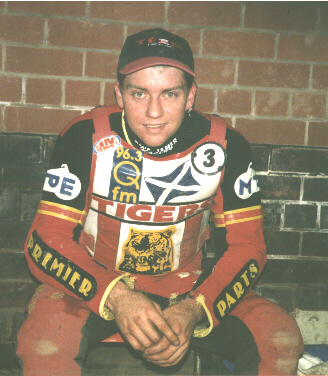 Mick rode and captained for Premier League Team Glasgow in '98 and did carry his hot form into the new season where he left off in '97. Rode for the 'Tigers' in the early part of '99 then moved to Berwick for remainder of season. Has fronted for Workington in 2000.
Mick started riding in the UK in 1989 for Poole, then shortly after to Edinburgh where he had a great debut year, only to suffer a broken thigh near season end. He had a disasterous 1990 while trying to recover from the injury. Went to Glasgow in '91 through to '95, steadily improving each year to become a key member of the 'Tigers' team. During that time, Glasgow won both the 'League' and 'Cup' in '93 and '94. The 'Tigers' didn't run in '96, however Mick rode for 'Scottish Monarchs' ( Edinburgh team racing in Glasgow). Glasgow re-entered in'97 where Mick had a very rewarding second half of the season. Has moved on to ride for Workington finishing season 2000 with an 8+ average. Returns to the 'Comets' for 2001.
Tony PRIMMER S.A.
Tony Primmer started his speedway career at Newcastle International Motordrome during the '85/'86 season. At the same time he was dabbling in Dirt Track racing rather successfully and actually was part of the winning team to take out the NSW Dirt Track Teams Championships as well as snaring 6th spot in the Australian 500cc Dirt Track Champs, both in 1986.
1988 saw Tony make the important decision to travel to the UK and try his hand in the big League. Riding for National League team Milton Keynes, his first year's average was 6.07, not a bad debut for the Aussie. Although there was a short stint with Wimbledon in '88, Tony was back with Milton Keynes for '89 riding in 26 matches keeping his average around 6. The 1990 UK season was busy this time at Eastbourne, however the step up to First Div. team Oxford in '91 was tough and Tony didn't return to England from then.
Meanwhile, back in Australia, Tony kept racking up some very good results in Speedway, Dirt Track and Long Track formats as well as a tour of NZ in '95 where he came 2nd in the LongTrack Grand Prix. He's even had a go at road racing taking out the National Title in Four Stroke 'Bucket' Championships of '97.
Now a resident of Roxby Downs, Tony Primmer has the Speedway bug again and after an impressive showing in the final Series 500 round at Wayville in early '99, he's busily amassing funds to maybe give the UK just one more shot.
Scott SMITH QLD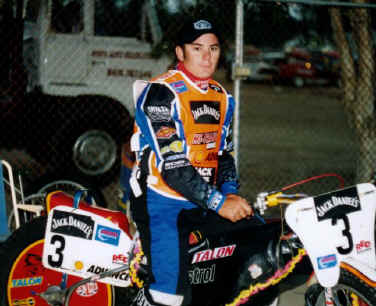 This 21 year old Queenslander is showing huge amounts of promise, and is desperatly keen to try his skills Overseas. This wish has come true courtesy of a rule change in the UK which has now allowed Scott to race professionally. Has been snapped up by Premier League team Newport for 2001 and will now be able to show the world what he's capable of. Has been in scintillating form lately and should prove to be very entertaining for UK speedway followers.
With some excellent advice on riding skills and temperament from former Australian Champion and International John Titman over the last few years, Scott will only get better, and once Overseas, should be capable of any goal he sets.
Sponsors
Companion Pet Cover Castrol Oils Antig Frames NEB Clutches Talon Hubs and Sprockets
Regina Chains GM Engines Pro Aussie Products


Adam SHIELDS NSW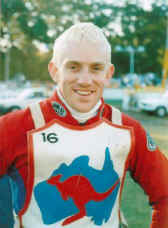 At 23 years old, Adam Shields has arrived at a stage in his Speedway career where he's been given the opportunity to race in the UK professionally for Premier League team Isle of Wight. And he's taken that chance 'with guns blazing', starring for the 'Islanders'.
At age 5, Adam started riding a 'Pee Wee' 50 in and around his home at Mulbring in the 'Dirt Track Motorcycle racing' rich area of the Hunter Valley.
With their very own Speedway track constructed on the Family property, it came as no surprise to see Adam take up the sport.
Climbing aboard a full sized Speedway bike at only 12 years of age and spending countless hours practicing at their ' Mulbring Speedway', Adam was well primed to take on the 'Big Guns' just two days after his sixteenth birthday at the Parramatta City Raceway.
With just one and a half Senior seasons under his belt, Adam took out the Gosford Speedway season Pointscore for 94-95.
During the next two years, the Kawasaki Newcastle Spare Parts Manager became increasingly frustrated with a lack of opportunities to further his Speedway career, and drifted in and out of the sport, only to return in a big way by winning the '97 Australian Under 21 Title at Shepparton. A third placing was achieved in the same Championship one year on at Mildura.
The last two Aussie seasons have seen a marked improvement in Adam's racing and enthusiasm as he pushed hard for that elusive overseas contract. Good results in the latest NSW and National Titles, plus one last determined trip overseas to prove his wares, brought that dream to fruition.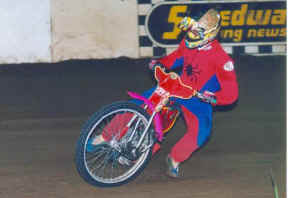 Latest highlights.........
1st Place 'Week of Speed Spectacular' Gunnedah Showground, Apr '99
3rd Place '1999 Gold Coast Honda Indy Cup'
1st place 'Gordon Guasco Memorial Trophy' Sydney Showgrounds, Nov '99
NSW Longtrack Champion, Muswellbrook, Nov '99
4th in 'A' Final Ivan Mauger Golden Helmet Series, Gosford, Nov '99
1st 'B' Final 2000 NSW Championships.
8th 2000 Aust Solo Championships.
4th 2001 NSW Championships.
Thanks to........
Roy Thomsen, Terry Poole, Sue and Brian Shields.
Photos coutesy of David Lamont
Jason STEWART VIC
Jason Stewart is yet another 'Young Gun' that has risen through the Mildurian ranks of Speedway. The 21 year old (as of the 1st of January'99) who holds Phil Crump as his mentor, started riding motorbikes at the age of 10, progressing to Junior Speedway two years later. During the following 4 years, Jason was able to amass many Rostrum places in Victorian and National U/16 Titles, however a Number 1 placing has cruelly eluded him. Once Jason arrived in the Senior ranks, his performances at various Tracks around South-Eastern Australia warrented many starts in State and National Championships where he is a twice place getter of the Vict. Solo Title and has appeared at two U/21 Titles and one Aust. Solo Final in '97., but again that Title trophy is missing from the mantle. Other achievements include Track records held at Horsham and Swan Hill Speedway's, along with being the '98-'99 'S.S.R.A. of Victoria' Club Champion.
An 18 month break from Speedway in '97-'98, mainly due to work apprenticeship committments, had Jason concentrating more in the Longtrack discipline of the sport with some very impressive results, particularly in Ivan Maugers International Series of '98.
Since the season of '98-'99, Jason Stewart is back with a vengence. With four Jawas (two Longtrack and two Speedway) Bikes at his disposal, together with valuable advice from Neil Street and Rob Allen also help from good friend and Sponsor Bill Allen, this team is putting in a huge effort that will give Speedway and Longtrack in this Country a big stir, and who knows, Jason just might wear that National crown he really deserves.
Sponsors........
B&S Allen Racing, Sunset Cycles Mildura, Jeff Hardwick, TacoBills (Mildura), Mildura Gateway Inn, Frankston Motorcycles, Hard Az Kevlars, Loader Products, Wideline Motorcycle Engineering, Neil Street Engine Tuning, Arai Helmets, BP, TK Speedway Repairs.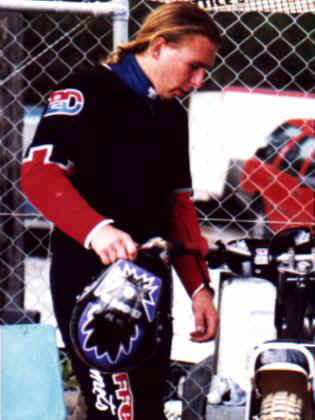 Started riding motorbikes at eight years of age around the Dirt tracks of the Hunter Valley, just west of hometown Newcastle in New South Wales. With plenty of success in the juniors, Chris then went onto Speedway at 17 y/o and now, five years on, is one of the best riders in NSW. He has benefitted with advice from former International and multi State Champion Mick Poole.
In 1998, Chris claimed second place in the Australian Under 21 title held in Mildura where local hero Travis McGowen was victorious. In '99 this quietly spoken young gun managed fourth in the Aust. U/21 Title under tough conditions. He also, like many other aspiring young Australian Speedway riders, has a burning ambition to compete in the UK one day and having Mick Poole on his side will no doubt help the cause.
For the 1999-2000 season, Chris built up two Jawas to persue as much racing in Australia as possible and is very focused on getting to Europe at some stage. A knee injury has put a temporary halt to his Speedway career in 2000..
Sponsors.........
Bieffe Helmets


.
Brett WOODIFIELD S.A.
Brett Woodifield, at 24 has quite a list of achievements to boast. He has appeared in 5 Aust. Champs in '94, '96, '97, '98 & '99, 2nd Aust U/21 champs '96, .....S.A. champs; 2nd '94, 4th '96, and 3rd '97, North Arm U21 champ '97, and World U/21 quarter finalist '96, '97 and semi finalist in '96. Brett rode for Peterborough in Premier League, UK in '98 but was elevated to Elite League team Ipswich for '99 on a 3.88 average. Was brought back into the Peterborough Elite team of 2000, mid-season.
Dave WATT QLD
www.geocities.com/daveywattracing/davey.html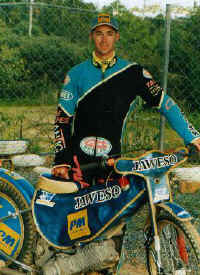 Queenslander Dave Watt, is one of that States brighest prospects, and has the potential to be enormously successful in this sport. At just 23 in January 2001, Dave wants a long career in Speedway and given the chance, will move onto the European scene as soon as possible.
With a calm and relaxed attitude off the bike, this Brisbanite can transform into a fierce competitor on the track without fear and will take on any opponant, no matter what their credentials, with vigour. Couple that with the ability of lightning starts, Dave could rise to any heights.
Born in Townsville in Nth Qld, the Watt family moved south to Sydney not long after, where Dave started riding motorcycles at the tender age of 3 and a half years. Hooked on the sport, a move back north to Brisbane in '88 changed little to the Bike desires, and an eventual move into Junior Speedway came with regular appearences at Chandler Stadium. Tremendous results followed with 2 Queensland State Championships and a win in the Australian U/16 Pairs Champs gave promise of things to come when Senior ranks beckoned.
1994 saw his Senior debut at the tiny Woodchop Speedway arena at the Brisbane Exhibition Grounds. Valuable experience was gained once in the 'big league' when travelling to many of the Speedways throughout the country. A liking to the Longtrack discipline saw this Brisbane Boilermaker able to contest more meetings. Best results are a 2nd in the '99 Queensland Champs, 2nd in the '99 Bathurst Longtrack Spectacular, is an almost automatic choice to contest the Ivan Mauger Speedway and Longtrack series held each year, 3rd in the Redcliffe round of the 2000 International Longtrack Masters, and has appeared in 2 Aust. Senior Solo Championships.
Mechanical problems have plagued Dave in some very important meetings, giving an inaccurate results picture of the real talent on show. Has secured a team place in the 'Isle of Wight' UK Premier League 'Islanders' squad for 2001.
Sponsors
Lango Tuning