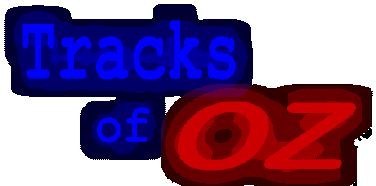 [whats new]
[oz news][euro news][riders][Yguns]
[tracks][maps][calendar][icons][links][oz gp comp]
[web site map]


QUEENSLAND

NEW SOUTH WALES

VICTORIA

SOUTH AUST/N.T.

WESTERN AUST
GOLD COAST

BRISBANE

GOSFORD

NEWCASTLE

MILDURA

SHEPPARTON

Nyora

Gillman

RENMARK

WHYALLA

CLAREMONT

NORTH-WEST

Any more information or corrections to 'tracks', greatly appreciated

QUEENSLAND
GOLD COAST Mike Hatcher Park
Track situated on the northern end of the Gold Coast. This uniqueTrack has an uphill main straight and downhill back straight and is 320 metres long. Spectators are well catered for with good grand stand seating, there is standing on grassed areas overlooking main straight, or park the car around the back and view from there.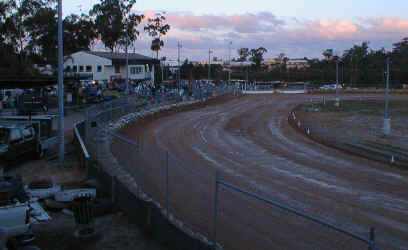 The 'Mike Hatcher Park' Labrador Speedway, Queensland.
Meetings are held once a month mainly featuring solos and outfits with good strong fields in both. Already Mike Hatcher Park has hosted the Queensland U/21 Championships, the Australian U/21 Championships, and the Queensland Sidecar Championships in the space of 7 months during 1998.
Very good crowds have been supporting the Speedway, and being repaid with some brilliant action from a good base of local and regular interstate riders.
Leading competitors;
SOLOS;
Alan Rivett, Scott Smith, Brent Collyer, Wayne Kennedy, Dave Watt, Clinton Leitch
Christian Henry, Ricky Nicol, Darren Groves, Sam Taylor, Todd Groves, Trent Leverington.

SIDECARS;

Bill Sewell Jnr., Dave Oliver, Ian McVie, Bruce Cooke, Steve Taylor
Telephone 07-5537 6796.
BRISBANE 'EKKA'
The Brisbane Exhibition Grounds has a very long history of Speedway and is the choice track for Speedway bikes in the area. Situated near the city centre, is restricted to only a handful of meetings a year. Track is 480 metres long and 9 metres wide and a surface of granite.
Excellent spectator facilities with grand stand seating two thirds the way around the track and always good catering.
The Rockhampton Showgrounds have held two rounds of the International Speedway Masters Series. The track is almost circular and quite long at 440 metres with a granite/clay surface and wooden fence.
Rockhampton is situated on the central coast of Queensland and is the gateway to the Great Barrier Reef.
Speedlink Park, Bells Road, Palmyra
P.O.Box 6821 Mackay Mail Centre, Qld 4741
Telephone 07-4955 6449 Fax 07-4952 3110
The Gatton Showground is situated 1 hour west of Brisbane and have started programming both Solos and Sidecars regularly.
Track is 517 meters long and 12 meters wide with good spectator facilities. Meetings will involve several Speedway classes including Solo's, Sidecars, and the smaller car classes.
Contact Neil Graham on 07- 5442 8266
NEW SOUTH WALES
Gosford is a motorcycle speedway, operating Solo's and Sidecars. The track is situated at the Gosford Showground, Showground Rd., Gosford on the Central Coast of NSW, about 60-90 minutes drive north of Sydney. Easily accessible by the F3 Freeway from Sydney or Newcastle (Gosford is approximately midway) or by train. The railway line passes the Showground and the railway station is only 3-4 minutes walk away.
The Promotor is David Tapp. The season operates from October through March with meetings on Saturday nights, generally on a fortnight basis. Start time is 7.00pm. There is a council curfew of 10.00pm and the track is only allowed to stage 10 meetings per year. Programmes usually consist of 30-35 events - a mixture , usually, of scratch and handicap racing for both bike sections.
The track is 320 mtrs around and is one of Austalia's major motorcycle-only speedway venues, having hosted an Australian Solo Final and rounds of the International Speedway Masters series.
Leading competitors;
SOLO'S - A grade
Mick Poole, Stephen Davies, Chris Szauter, Adam Shields, Dean Wiseman, Ben Shields, Ty Platt.
SOLO'S - B grade
Leigh Fernance, Dennis Hall, Ben Peck, Peter Pono, Shane Haggarty, Strider Horton, Lee Herne, Jaye Stevens.
SIDECARS
Grant Bond, Chris Pym, Gavin Edwards, Darren Cafe, Steve Houston, Darrin Treloar.
Telephone (02) 9628 5626........Fax (02) 9628 7338.........Track ph. (02)4323 9213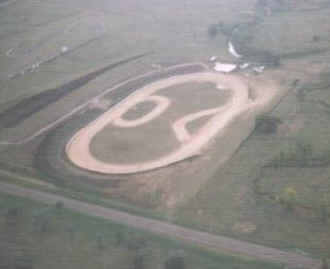 'Oakburn Park' is situated on the Gunnedah Road opposite the Tamworth Airport. This great new track is 461 metres, 16 metres wide on the straights and 18 wide on the corners. It features a 160 metre Junior track inside the main circuit.
SOLOS
Junior Speedway: Michael Slade, Luke Slade, Clarissa Jones, Sascha Worthington, Robert Dunn, Jason Doyle.

Senior Speedway: Mitchell Halls, Mick Choice, Steve Chaffey (Chaff), Kris and Brian Thomas, Rick Radmore, Barry Morgan,
Brett Patton, Peter Pono, Heath Robertson.

SIDECARS
Jim-Bob Turner/George Rickard, Paul Slade/Tony Nichols, Graeme Sipple/Steve Jones, Augie McLachlan/Jack Hall, John Dunn/Celeste Kline/Josh Watts, Gary McIntosh/no pass., Steve Bignall/Greg Barwick., Hughie Austin/no pass., Terry Nixon/Luke Sampson.,
VICTORIA

Andy Davidson
Olympic Park Speedway has been a tremendous breeding ground for many of Australia's leading International Speedway riders. Riders such as Phil and Jason Crump, Leigh Adams, Ryan Sullivan, Mark Lemon, Jason Lyons to name a few.
The track was established in 1949 and is a bike only venue. It has hosted many national titles over the years and has been part of the International Speedway Masters Series in each year of the Series. Track length is 302 metres and 11 metres wide.
Address...Johnstons Bend, Olympic Park. Phone Brendon Gledhill on...03-5027 4225 ah.

Andy Davidson
Myrtleford Speedway track is situated at the Myrtleford Showgrounds adjacent to the Myrtleford Golf Club. The track is 48ks from Wangaratta and 65ks from Wodonga. It is of granitic surface approx 360 meters in length and 10 meters wide with a concrete wall surrounding the track.
A junior speedway track is placed within the senior track. The club hosts junior and senior solo, sidecars, Formula 500, GP midgets, compacts, saloon and go kart events. Spectators can watch from their cars or (soon to be) grassed embankments. Reasonably priced food
and refreshments available and camping facilites are also available at the showground.
The season runs from October to April (See 'calendar') beginning on Show Night and culminating in a two day event at Easter with the Solo Masters on Saturday and the Tom Gunson Memorial for sidecars on Sunday. Numerous riders and spectators camp at the track for the weekend or book into motels in town. Raceday practice begins at 10am and racing concludes at 11pm because of Council curfew. Myrtleford has hosted rounds of the Vic Sidecar Championships, Vic Junior Solo Championships and Vic Formula 500 Drivers Championships.

Regular competitors are
JUNIOR SOLOS
Mark Jones, Lindsay McGregor, Michael McBurnie, Reece Tanner
SENIOR SOLOS
Shane Hamilton, Mark Halls, Shane Clare, Ashley Jones
SIDECARS
Hough/Armstrong, Cleave/Power, Richards/Vicary, Windsor/Beanham

Postal Address : Secretary, Myrtleford Motor Sports
Club inc, 539 Comans Ave, Lavington, N.S.W. 2641

Contact Buck Jones on 02-6021 1863 ah, 015-480 210 mob., or 02-6021 5522 bh.
Track phone.....(03) 5751 1215

NYORA
Nyora Speedway is around 100 klm's south-east of Melbourne Vic. The Bike track is situated inside the main track and is 375 metres long. A hotline has been set-up for up-coming meetings Ring 03-5659 0059
SOUTH AUSTRALIA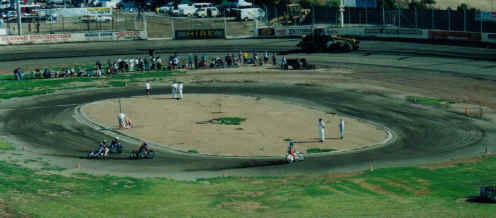 Pic shows junior track inside main arena. Lee Morris
Murray Bridge's 'Riverview Speedway' has had major track alterations over the '99 winter which has increased the length from 290 mteres to 360 metres. With the demise of North Arm Speedway in Adelaide, Murray Bridge has become very important to the Solo and Sidecar fraternity in South Australia
Ph. 08-8532 1150, Fax. 08-8532 1012
Murray Bridge is situated around 80 klm's east of Adelaide.
Roxby Downs is essentially a mining town situated in central South Australia, 220 klms north of Port Augusta and 550 klms north of Adelaide. The local Speedway runs mainly a 'Car' programme, so with persistance from Bike enthusiasts, a dirt Go-Cart track nearby was converted to accomadate Sidecar and Solo racing. With the blessing of 'Motorcycling Australia (South Aust.)' and some hard work with modifications, the track ran it's first meeting in January '99 very successfully.
With it's striking desert backdrop, the 'Roxby Downs Speedway', as it is now known, has used a mixture of natural surrounding sand and Crusher dust, to the race surface. Track length is 325 meters, nine meter wide straights and ten meter wide corners. Racing is staged under lights with 5 towers placed around the inside of the track.
GILLMAN Heini Becker Park
This 320 metre track in Adelaide's northern suberb of Gillman has been running for only a short time with the Speedway Riders Assoc. of S.A. planned improvements completed. Track surface is Dolomite (Crusher dust). It now is wide enough to run 6 solos and 5 sidecars in each race.
Daphne Waters 08-8281 7103
The Sidewinders track just north of Adelaide has been the breeding ground for many top Speedway riders since it's inception in the late '70's. Situated at Wingfield, only one klm from the Gillman track, 'Sidewinders' has nurtured such notable riders as Ryan Sullivan, Shane Bowes , Scott Norman, Shane Parker, Nigel Sadler , Brett Woodifield and Steve Baker( former World U/21 Champ) and just recently, the very highly rated teenage Sidecar star Justin Plaisted.
The Track is 120 around with a surface of Dolomite (crusher dust). Solo's are mainly 125 Honda engined 'sliders'
Wayville Showground is situated in central Adelaide, South Australia,. The facilities are terrific and along with a good track surface, is preferred by rider and spectator alike. Track length is long at 530 metres on a sandy surface and is a very spacious 17 metres wide.
Phone 08-8231 2331
Port Pirie is situated about 220 km's north of Adelaide. The 'Phoenix Park Raceway' situated in the centre of town is now used for the annual Longtrack Spectacular which draws riders from all over Australia.
The Track is 950 mtrs long and usually used for Harness racing with it's surface of a Sandy nature. Excellent rider and spectator facilities.
Jamie Heidrich ph. 08-8632 1396 fax 08-8633 3066.
WHYALLA
Whyalla is predominately an Iron Ore town. The population of around 30,000 people rely heavily on the Steel industry, from mining the Iron ore to the ship building facilities. The town is situated on the western shores of Spencer Gulf, virtualy opposite Pt. Pirie. The Speedway is just 5 klm's north of the town and has been operating since April 1972.
Track length is around 370 meters.
Contact Malcolm MacDonald on 08- 8649 2164 ah
Western Australia
This purpose built Speedway and Drag Strip has been recently completed and proving to be a very successful venue for Perth's Speedway enthusiasts after the demise of the world famous Claremont Speedway. The Bike track is set inside the main car arena and is 360 metres around, 12 metres wide at the straights and 15 metres wide on the turns. The venue boasts it's own web site from which up to date information can be obtained. Go to www.motorplex.com.au
Bunbury is approx 170 km south of Perth - about 2 hours drive.
Situated on the North Boyanup Road near the Bunbury Airport. Bunbury City and Regional Raceway has just celebrated its 25th Anniversary. The track has also held four rounds of the Series 500 Masters since it's inception, from '95 to '98.

Track is 530 metres in length. The promoters are Speedworx Pty Ltd and the chairman is Des Ferris. Postal address is P.O. Box 809, Bunbury WA
6231. Track phone is 08-9725 4515 and fax is 08-9725 4819.
Track is situated in Hope Road, Jandakot, just near the Jandakot Airport. It is promoted by the Perth TQ Car Club and runs every second Sunday afternoon during the winter months.
Track is approx. 380 metres in length. It runs solos and sidecars on a regular basis. Also has a junior solo track on the infield.
Postal address is P.O. Box 3129,
Jandakot, WA 6164.