-----------------------------------------------------------
[whats new][oz][euro][riders][Yguns][tracks][maps][calendar][icons][links]
-----------------------------------------------------------

New South Wales
[Dean Wiseman][Ben Shields][Ben Peck][Jaye Stevens][Strider Horton]
Lee Herne
Date Track Results Comments
20/03/00 Newport 0,0,1,1=2 versus Stoke chall.
26/03/00 Newport 7 from 5 rides British U/21 qualifier
27/03/00 Newport 0,0,1=1 versus Belle Vue chall.
28/03/00 Exeter 1',0,0=1+1 for Newport
03/04/00 Newport 0,0,0=0 versus Arena-Essex
10/04/00 Newport 0,f,1,f=1 versus Exeter
17/04/00 Newport 1',0,f=1+1 versus Swindon
24/04/00 Newport 3,0,0,1=4 versus Reading
02/05/00 Newport 0,0,1,0=1 versus Isle of Wight
05/05/00 Reading 1',0,1,f=2+1 for Newport
08/05/00 Newport 1',0,0,0,0,0=1+1 versus Stoke PL
15/05/00 Newport 3,3,2',1,1,1=10+1 Conference League for 'Mavericks' versus Buxton
20/05/00 Arena-Essex 2',fell,0=2+1 For Newport
22/05/00 Newport 1,0,0=1 versus Glasgow
30/05/00 Newport 3,3,3,2'=11+1 for Conf. League Mavericks
31/05/00 Isle of Wight 0,0,0=0 guest for Swindon
01/06/00 Hull 2,0,0=2 for Newport
02/06/00 Sheffield 0,0,1=1 for Newport
12/06/00 Newport 3,1,0,0,0,2'=6+1 versus Workington
13/06/00 Reading 1,2',1'=4+2 for Newport
23/06/00 Isle of Wight 1,0,0=1 guest for IOW versus Newport.
24/06/00 Newport 2,2,3,1=8 Conf Leag. for 'Mavericks' versus
01/07/00 Peterborough 3,1,1'=5+1 Conf Leag. for Newport 'Mavericks'
09/07/00 Newport 2,2,3,3=10 Conf Leag versus Rye House
18/07/00 Rye House 9+1 from 7 rides CL for 'Mavericks'
22/07/00 Newport 1,0,1,0=2 CL for 'Mavericks' versus Sheff. 'Prowlers'
29/07/00 Oxford 0,0,0=0 for Young Aust. versus Young England.
04/08/00 Glasgow 3,0,1',1=5+1 CL for 'Mavericks'.
12/08/00 Somerset 1,3,1,1,0,1=7 CL for 'Mavericks'.
22/08/00 Reading 1,1,0=2 for Reading versus Swindon
25/08/00 Swindon 1,1,0,0=2 for Reading
28/08/00 Newport 3,1',2,0,0=6+1 for Reading
13/09/00 Isle of Wight 0,0,0=0 for Reading
18/09/00 Newcastle 3,0,0=3 for Reading
19/09/00 Reading 2,R,0,1=3 for Young Australia
25/09/00 Stoke 0,1,0,0,0=1 for Newport
28/10/00 Gosford NSW 2nd,5th,3rd. Did not qual for final.
04/11/00 Bathurst NSW dnf,3rd,3rd. 6th in Final of Longtrack Spectacular
26/12/00 Gosford NSW fex,2nd,fex. NSW Solo Championships.
02/04/01 Newport UK 0,0,1=1 for Trelawny
11/04/01 Trelawny UK 0,0,1=1 versus Reading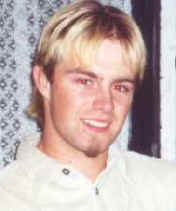 Although just 19 years of age, Ben Shields is very much a newcomer to the Speedway limelight, as he rides in only his third full season. However, he's not completely new to the 'game'.

The son of former International rider Dave Shields, Ben kept away from the local Junior Dirt Track and Speedway scene in his early years. Although having the odd ride on a Junior Solo lent by good friend and near neighbour Dean Wiseman, he prefered to ride the bigger 500cc Solo bike at a track on his family's property in the Hunter Valley, just west of Newcastle NSW. In fact, Ben's skills on the bike have been honed by father Dave and grandfather Matt for almost a decade!
Needless to say that when he felt the time was right to obtain his Speedway license, this late comer took to the 'official scene' like a duck to water.
On the night of the 13th of March 1999, this 'young gun' came of Speedway age as he won the 'A' grade feature race at Gosford Raceway beating highly fancied and well established opponents along the way.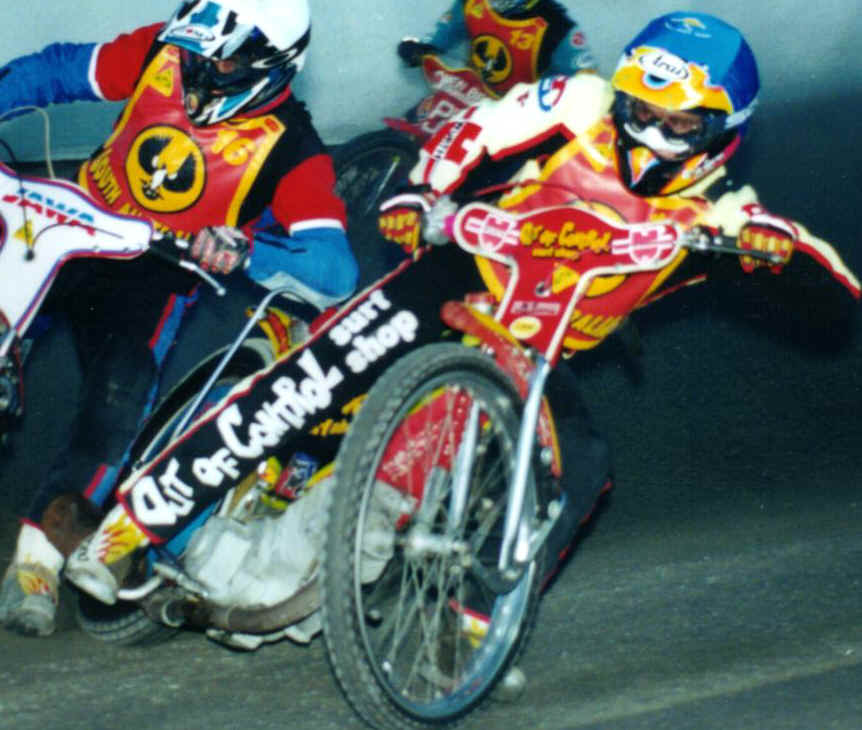 With his Jawa Laydown, excellent family support and a role model of current World Champ Tony Rickardsson, the 'Brick Layer' of Mulbring is now well on his way to a successful Speedway career. Setting a steady course of gaining more race and track experience domestically, Ben's hopes of a European racing career has arisen and he'll start with the UK Premier League team Edinburgh 'Monarchs' for season 2001.
This Young Gun's progress will be well worth watching!
Sponsors...
MILLSPEED Stockhausen Fire and Safety Enterprises Eastside Trim
OUT OF CONTROL surf shop.


Date Track Results Comments photo by Double M Photographics (08) 8325 2430
26/12/98 Gosford NSW ext,3,3,1,0=9 NSW Solo Champs. unlucky not to progress further in GP style format.
06/03/99 Gosford 1,1,1,3=6 A good finish to the night. Established in 'A' grade now.
13/03/99 Gosford 1,2,fell,3=6 Won 'A' Final with last gasp pass over Ty Platt. Chris Szauter 3rd. Best win thus far.
27/03/99 Gosford 3,3,3 Won 'A' Grade Handicap Final
22/05/99 Gosford NSW 0,1,3=4 Meeting cut short due to rain
29/05/99 Nepean NSW 13 points second placing in the meeting
28/11/99 Tamworth 7 points 5th in the1st Semi final Golden Helmet series..
26/12/99 Gosford 3,2,0,fell NSW Championships. Looking very good until crash.
15/01/00 Gosford NSW 1st,1st,then H/caps 3rd,2nd. 'B' Grade.
05/02/00 Gosford 3,0,1,3=7 Support races to Aust. Final.
19/02/00 Tamworth NSW 3,2,3,1,3=12 4th in Aust U/21 Champs
26/02/00 Gosford 3,1,2,2,3=11 Third in 'A' Final of Johnnie Hoskins Memorial.
04/03/00 Gosford 2,1,0 in scratch races. 4th in Solo shootout. 4th in 'King of the Ring'
15/04/00 Newcastle NSW 2nd in 'A' Final
20/05/00 Gosford 3,2,2,2=9 then 2,3=5 in hanicaps.
11/06/00 Gosford 3,3,3,3,2=14
17/06/00 Yandina Qld 3,3,3,3=12 Won the 'A' Final.
07/10/00 Gosford 4th,3rd,4th and 5th in 'A' final
28/10/00 Gosford 1st,2nd,3rd. fell in Final.
2/12/00 Gosford 2nd,1st,fex, won 'A' Final of 'Gold Cup'
26/12/00 Gosford NSW 1st,2nd,2nd,1st. 5th in Final of NSW Championships.
17/02/01 Gillman SA 3,0,3,3,2=11 points 3rd in Australian U/21 championship.
19/03/01 Glasgow UK 0,0,0,0=0 Debut for Edinburgh (Premier)
07/04/01 Edinburgh 1',0,0,f=1+1 versus Workington
08/04/01 Berwick 0,0,0=0 for Edinburgh
10/04/01 Newcastle fx,1,0,1=2 for Edinburgh
Jaye Stevens was the '98 Australian U/16 Champion and having just turned 18 in February 2000, is now an established senior Speedway rider. Born in Newcastle and still living in the area, Jaye's home track is at Gosford City Speedway, however in the pursuit of more riding experience, has travelled up and down the Eastern States of Australia. Following in his father's (David) footsteps, Jaye started riding Speedway at the tender age of twelve and virtually lives and breathes the sport.
Jaye rides a well credentialed Jawa Laydown which has a motor that was a Tony Rickardsson GP throw away engine, which had a factory rebuild. Nothing but the best for this young flyer! And flying he is! Since turning sixteen, Jaye was included in the Newcastle team that raced against a Gosford troupe in only his third senior meeting. He has also competed in several rounds of Ivan Maugers Longtrack Series, as well as placing third in the NSW division 2 Titles.
Not wanting to model himself on any established Speedway 'Stars', (although he would like to emulate Todd Wiltshire's gating prowress) Jaye is his own rider with different views and style, and with over 150 trophies on the mantle piece, who could argue. However, like most Speedway riders.........he is always looking for a good sponsor.
Had ventured to England during the '99 season to help Todd Wiltshire at Oxford and was able to secure a few rides.
Has sustained nasty injuries in a crash at the Bathurst Longtrack meeting in November 1999 which put a halt to any racing activity for some time. Has now bounced back and regaining confidence with each ride.
Sponsors...
SPONSOR WANTED!!!
Absolute Pest Control
Date Track Results Comments
14/11/98 Gosford NSW 3,2,1,1,3=10points Won the 'Starlet Series' at season opener.
28/11/98 Gosford NSW ran 2nd in 'last position' qualifier for Hoskin's cup.
12/12/98 Gosford NSW 2,1,2,2=7 3rd in Solo Handicap Final
26/12/98 Gosford NSW 3,3,0,1. NSW State Champs. GP format. Good start.
28/12/98 Labrador Qld. 2,3,3=8 Crashed in support solo final. Gashed left leg.
06/02/99 Gosford NSW 1,1,1,3=6 'B' Grade support.
13/02/99 Canberra ACT 2nd,5th in International Longtrack Class
2nd in National Longtrack class.
21/02/99 Tamworth NSW 5th,5th,3rd 7th in Semi of Longtrack Series. International Class
27/02/99 Dubbo NSW 2nd,4th,5th International Longtrack Series. 7th in Semi.
25/05/99 Wolverhampton UK 6+1 from 3 rides Rode for Oxford Juniors, won first race
25/08/99 Rye House 1,0,1,3=5 Rode Conference League for Southampton.
09/10/99 Tamworth NSW Won 'A' Grade final
16/10/99 Labrador Qld. 0,0,1,1,1=3 Very strong field.Tough return from Europe.
06/11/99 Bathurst NSW 2nd,fell Terrible crash. Broken vertabrae.
11/03/00 Raymond Terrace first ride back after injury.
11/06/00 Godford 1,2,2,3,1=9
17/06/00 Yandina Qld 3,3,0,3=9 Did not ride due to injury.
05/08/00 Labrador Qld 3,2,3,3=11 2nd in 'A' Final
02/09/00 Labrador 3,2,1,3=9 Won 'A' Final
07/10/00 Gosford dnf,dnf,6th and 5th in 'B' final
28/10/00 Gosford 5th,4th,3rd. did not qual. for final.
2/12/00 Gosford 3rd,3rd,ef. did not qual for final.
26/12/00 Gosford 3rd,2nd,3rd,4th 2nd in 'B' Final of NSW Championships.
01/01/01 Gosford 3rd,5th,3rd,4th,ef. round 1 of International Masters.
03/01/01 Newcastle NSW 5th,4th,5th,4th,4th. round 2 of International Masters.
06/01/01 Gosford 3rd,4th,2nd,dnf,dns. round 3 of International Masters.
17/02/01 Gillman SA 0,0,0=0 Australian U/21 championship. Was injured in practice and rode bravely on title night but could not continue.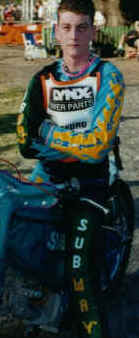 Dean Wiseman looks at home on a Speedway Bike. The 19 year old has an elegant style that 'oozes' confidence on the machine.
Dean is a relative newcomer to Speedway racing, having started when 14 years old at Kurri Kurri in the rich 'Dirt Track racing country' of the Hunter Valley, west of Newcastle NSW. Having ridden minibikes from the age of seven, Dean then took to Dirt Track and Speedway racing with aplomb, piling up many wins including a NSW Junior Pairs Championship not long after starting, and a NSW U/16 Dirt Track Title. He has appeared at many tracks, travelling as far as Mildura to the west and Brisbane to the north gaining plenty of time on the bike. However his home track is Gosford Speedway where former International Stephen Davies is helping Dean with skills and machine preparation. Working as a floor Tiler, he is gradually building up a second bike to compliment his Laydown Jawa, as well as fulfiling an ambition to ride Overseas as soon as possible
With proud Parents and his main Sponsor 'SUBWAYS' and 'KIKASS Clothing Co.' firmly behind this Young Gun, along with the confidence that Dean exudes on his bike, all will help immensely in his progress towards an International career.
Sponsors........
'SUBWAY' Cessnock Dinkum Designs Screen Printing, R&J Philp Tiling,
Mum and Dad, Pat Kelly, Michael Campton.



Date Track Results Comments
28/12/98 Gosford NSW 2,2,1,2,3,0=10 NSW Championship. Finished 3rd in 'B' Final.
3/1/99 Labrador Qld. 1,0,1,2,0=4 Aust. U/21 Titles. Rode much quicker than results show.
5/1/99 Labrador Qld 2,2,2,3,1,0=10 Gold Coast Best Pairs. Very quick but starts let him down.
6/2/99 Gosford NSW 3,3,3,3=12 'B' Grade support.
06/03/99 Labrador Qld. 2,1,3=6 Fell in final, breaking wrist.
07/08/99 Labrador Qld. 0,1,2,0=3 First meeting back from injury. gained confidence as meeting went.
16/10/99 Labrador 1,1,1,0,1=4 Gold Coast Indy Cup. Very strong field.
28/11/99 Tamworth NSW 3 points for the Ivan Mauger Golden Helmet round 3.
26/12/99 Gosford 0,1 NSW Solo Champs. Only two starts in GP format.
15/01/00 Gosford 1st,2nd,2nd,fell. Layed the bike down, then blew motor in final ride.
05/02/00 Gosford 2,2,2,1=7 Support races to Aust. Final.
19/02/00 Tamworth NSW 2,1,2,2,2=9 Equal 6th Aust U/21 Champs.
20/02/00 Raymond Terrace NSW Won the Solo Speedway class at the Newcastle Track Masters
26/02/00 Gosford 2,2,3,3,3=13 Excellent result of second placing in 'A' Final of Johnnie Hoskins Memorial
04/03/00 Gosford 2,0,1 in scratch races. 2nd in Solo Shootout. 3rd in 'King of the Ring'.
20/05/00 Gosford 2,1=3
11/06/00 Gosford 1,3,1=4
03/09/00 Tamworth NSW 2nd in 'A' Final
09/09/00 Moruya NSW Won Final
07/10/00 Gosford 3rd,5th,3rd and 2nd in 'A' final
28/10/00 Gosford fell,dns,1st. 3rd in Final
26/12/00 Gosford 2nd,2nd,1st,2nd. 3rd in Final of NSW Championships.
01/01/01 Gosford 4th,fex,ns,3rd,3rd International Masters round 1
03/01/01 Newcastle 3rd,5th,2nd,3rd,2nd International Masters round 2
06/01/01 Gosford f,dnf,dns,dns,dns. International Masters round 3 Machinery problems all night.
03/02/01 Murray Bridge SA 0,1,1,0,0=2 Debut Australian Solo Championships.
17/02/01 Gillman SA 0,1,2,2,2=7 points equal 8th in Australian U/21 championship.
24/02/01 Gosford NSW 0,2,f,3=5 Interstate challenge
25/03/01 Raymond Terrace NSW
---