-----------------------------------------------------------
[whats new][oz][euro][riders][Yguns][tracks][maps][calendar][icons][links]
-----------------------------------------------------------

South Australia
Russell Harrison was born on the 11th of October 1981, so at just nineteen years of age, has an incredible string of achievements to his credit. Rusty's U/16 winnings are nothing short of amazing, with two Australian Junior Titles ('95 &'97), two Sth Aust. Junior Titles ('95 &'97), S.A. Junior Pairs Champ ('97), won Laurie Hodgson Trophy ('96), won Roy Bitmead Cup ('97) and won Troy Wyten Memorial ('96).
Russell made his Senior debut on 18/10/97 at Murray Bridge S.A. and promptly won his first three rides! Two weeks later and a couple of wins were scored at the 'Bridge'. He then entered the S.A. Title amassing 6 points in the heats and 6th in the 2nd Semi. His first Senior season was so impressive, this 'Young Gun' was voted 'Rookie of the Year' at Murray Bridge for 1998.
Russell Harrison was an obvious nominee to contest the Australian U/21 Title in January of '98 and scored 5 points to finish 12th overall in the Championship. Rode in the '99 Aust. U/21 Title at Labrador Qld finishing 3rd then progressed to the '99 Australian Senior Final at Mildura finishing 2,2,1,0,3=8 points in 9th place.
The year 2000 opened with a flurry of meetings as he contested in most of the International Speedway Masters series meetings, a fourth in the South Aust. Final, scored a berth in the Australian Solo Championships in Gosford (2points) and was on track for a podium finish in the Australian U/21 Title at Tamworth before a crash ended his night. Has brilliantly won the 2001 Australian U/21 Speedway championships.
Has travelled to the UK during 2000 and secured a Premier League team place with Glasgow 'Tigers'. Will now ride for the Workington 'Comets' in 2001.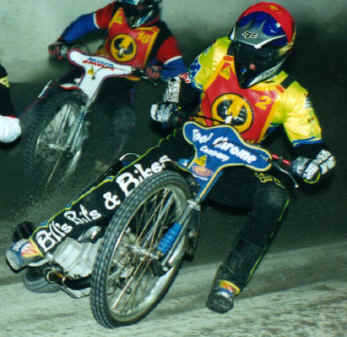 photos by Double M Phototgraphics (08) 8325 2430

Sponsors..........
Gawler Auto Rescue, John Titman, Fraser Imports, D.K. Transport, 'Old Spot' Hotel, Gawler S.A.
Date Track Results Comment
17/10/98 Murray Bridge SA 0,2,2 2nd in 6 lap 'A' final.
14/11/98 Murray Bridge SA 2,0,1 3rd in 6 lap 'A' final
12/12/98 Murray Bridge SA 2,2,2=6 3rd in Semi then unplaced in Final of S.A. Champs.
28/12/98 Labrador Qld 3,2,3,1=9 3rd in 'New Years Cup' final. Looks sharp.
30/12/98 Brisbane 'Ekka' 1,0,0,0,1=2 3rd in 'D' Final. Rode well, would have learnt a lot.
3/1/99 Labrador Qld, 3,2,1,3,2=11 Aust. U/21 Champs. Good Consistant night resulting in run-off for a place in Final, winning that. Finished 3rd in Title.
9/1/99 Murray Bridge SA 2,1,then second in six lap final.
15/1/99 Warrnambool Vic. 6th,5th,dnf,4th 4th in 'C' Final of ISMS round 6
16/1/99 Mt. Gambier SA 4th,4th,6th, 5th in 'B' Final of ISMS round 7
30/01/99 Wayville SA 6th,5th, 4th in 'C' Final of ISMS round 11. Rode as reserve
13/02/99 Mildura Vic. 2,2,1,0,3=8 Aust. 500cc Solo Champs. Very good 1st senior title. 9th overall
27/02/99 Roxby Downs SA 3,fell,3 2nd in Lap dash shootout, then won 'A' Final.
16/10/99 Labrador Qld. ef,1,R,3,3=7 First ride since suffering leg problems. Got better as night went on.
03/12/99 Whyalla SA 3points Golden Helmet round 4
04/12/99 Pt. Pirie 8 points Golden Helmet round 5.
30/12/99-03/01/00 Brisbane, Lismore, Gosford, Newcastle. Reserve for rounds of ISMS
04/01/00 Parramatta NSW 6th in 'C' Final round 5 of ISMS.
08/01/00 Wayville SA Missed a Finals berth in round 6 of ISMS.
15/01/00 Mt. Gambier SA 5th in 'C' Final of round 8 ISMS
21/01/00 Claremont Perth WA 3rd in 'C' Final of round 9 ISMS
22/01/00 Bunbury WA 4th in 'C' Final of round 10 ISMS
25/01/00 Kalgoorlie SA 3rd in 'C' Final of round 11 ISMS
28/01/00 Mildura Vic. 2nd in 'D' Final of round 12 ISMS
29/01/00 Murray Bridge SA dnf in 'B'Final of round 13 ISMS.
05/02/00 Gosford NSW 1,0,0,0,1=2 Aust. Solo Champs.
19/02/00 Tamworth NSW 1,3,1,3,fell Aust. U/21 Champs. Injured in last ride and took no further part
17/04/00 Newport UK 3,3=6 Two wins in 2nd half practice
18/06/00 Workington 1,1,0,3=5 First ride for Glasgow Premier League.
19/06/00 Glasgow 1,1,0,2=4 versus Newcastle
25/06/00 Stoke 1,1,0,2=4 for Glasgow.
26/06/00 Glasgow 0,0,1',2=3+1 versus Workington
29/06/00 Hull 2,0,2,3,0=7 for Glasgow
03/07/00 Glasgow 0,0,0=0 versus Reading
07/07/00 Sheffield 1,1,1,3,1=7 for Glasgow
09/07/00 Glasgow 1,0,0,2'=3+1 versus Exeter
10/07/00 Exeter 2,0,0=2 for Glasgow
24/07/00 Glasgow 0,2',0,1=3+1 versus IOW
25/07/00 Reading 3,-,1',1,1=6+1 for Glasgow
26/07/00 Isle of Wight 1,0,0,0=1 for Glasgow
29/07/00 Edinburgh N,0,1',0,2=3+2 for Glasgow
04/08/00 Glasgow 0,1,1,1',1'=4+2 versus Newport
08/08/00 Newcastle 3,1',1',2',ef=7+3 for Glasgow
12/08/00 Belle Vue 0,0,0,0,0=0 guest for EL Eastbourne
14/08/00 Glasgow 2',0,1',1'=4+3 V Newcastle
19/08/00 Arena-Essex 2,0,0=2 for Glasgow
21/08/00 Glasgow 3,1',2',1,3,1=11+3 V Stoke......Man of Match
27/08/00 Eastbourne 0,0,0=0 guest in Elite League
28/08/00 Glasgow 2,0,f,0=2 V Swindon
29/08/00 Kings Lynn 2',2',1,0,0=5+2 for Young Australia.
04/09/00 Glasgow 2,0,0,0,1=3 V Exeter.
18/09/00 Glasgow 2,1,0,1'=4+1 V Sheffield
19/09/00 Reading 3,3,2,3,2',fex=13+1 for Young Australia
21/09/00 Kings Lynn 0,0,0,0,0,0=0 Pairs invitation.
25/09/00 Glasgow 3,3=6 V Edinburgh...rain shortened match
26/09/00 Glasgow 2,1,R,2=5 V Swindon
30/09/00 Edinburgh 3,0,0,2=5 for Glasgow
02/10/00 Glasgow 1,2',3,3,1=10+2 V Edinburgh
07/10/00 Oxford 0,1,1',1'=3+2 guest for Elite team Eastbourne
16/10/00 Glasgow 3,1,2,1,2=9 V Workington
23/10/00 Glasgow 2,1,1,1,1=6 Ashfield Classic.
29/10/00 Workington 3,0,2,f,2,2,1=10 for Glasgow
16/12/00 Murray Bridge SA 3rd in South Australian Solo champs.
20/01/01 Murray Bridge SA 11points in the 'Jarrod Priest Memorial'. Did not contest the final.
03/02/01 Murray Bridge SA 0,0,2,1,1=4 Australian Solo Championships
17/02/01 Gillman SA 3,2,3,3,3=14 points Winner of Australian U/21 championships.
24/02/01 Gosford NSW 2,1,3,3=9 2nd in Final Interstate Challenge
18/03/01 Workington UK 3,1',0,1=5+1 versus Newcastle
01/04/01 Workington 2,1,2,0,0,1=6 versus Glasgow.
06/04/01 Sheffield 1,0,1,1'=3+1 for Workington
07/04/01 Edinburgh 3,3,3,2,1,2=14 for Workington
08/04/01 Workington 0,1,2',1,fex=4+1 versus Hull
12/04/01 Hull 2,3,3,0,2',0,2=12+1 for Workington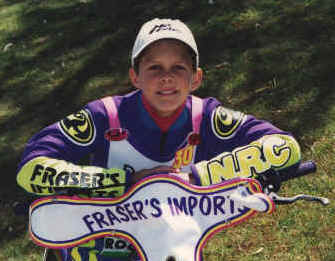 NAME: Rory Robert Schlein
AGE: 15 1/2 (Date of Birth 1/9/84)
RESIDES: Adelaide, SA
BORN: Darwin NT (Im still a Territorian)
RIDING YRS: Since the age of 7
FIRST INTEREST: Dad raced solos and sidecars, grandfather (Bob Ekins) and
Uncle
Warrenne Ekins all raced speedway from scrambles, motocross, TQ's,
SuperModifieds,
FenderBenders and Speedcars.
REASON FOR LEAVING NT: To get national competition and gain further
experience.
But still go home every year for holidays (warm weather).
AMBITION: To race overseas in the league competition in UK. We are
leaving Australia in March, 2001 to start my career.
SPONSORS:
Frasers Imports, Dave Adams Painting, Haughton Honda, Rock Oil,
NRC, Club Territorian, Blake Investments, Peter Kittle Motor Co. B & J
Distributors
BEGIN 500 CAREER: 1st September, 2000 and counting the days.
Date Track Results Comment
30/06/00 Darwin NT 3,3,2,2,1,2=13 Won Aust. U/16 'Pairs' Championships with Mathew Wethers.
01/07/00 Darwin NT 3,3,3,3,3=15 Won Final of Aust. U/16 Solo Championships.
17/02/01 Gillman SA 0,0=0 Aust. U/21 reserve.
10/04/01 Newcastle UK 2,0,0=2 First appearence for Edinburgh (Premier League)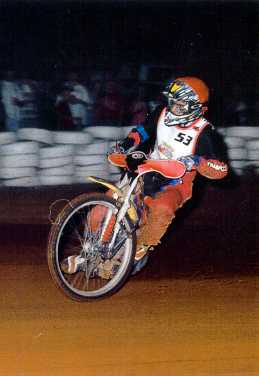 Shanan Wearne started his Speedway career at the age of 14 at the Sidewinders U/16 Speedway track just north of Adelaide, where he raced with considerable success. In one and a half seasons he graduated into the 'A'grade ranks and finished 2nd in the 1996 S.A. State Championships, beating the more fancied Russell Harrison, as well as being the only rider to win a heat over eventual winner Troy Stojakovic. It was unfortunate Shanan could not compete in the Australian U/16 Title that year due to a resheduled race date, after his 16th birthday.
A structured approach to his Senior career has been undertaken, with the first and second seasons being used as a 'get to know' the big bike racing feel. However his recently completed third season has seen very positive gains particularly at the 'Riverview Speedway' in Murray Bridge where he took out the awards of 'Top Points Scorer' and 'Most Improved Rider'. Shanan also snared the coverted MA Committee 'Top Points Scorer' for South Australia in '98/99.
In a season that had seen the loss of his close friend Jarrad Priest in a racing accident at Murray Bridge, as well as being strangely left out of some showcase events in the State, it becomes obvious that this 'Young Gun' from Adelaide has a strength of character and determination to achieve in this sport of Speedway racing.
Other achievements to date........Juniors/ Most Improved rider '95, 1st SA versus Mildura '94, 1st Troy Whytem Memorial '94, 2 X Laurie Hodgson Trophy wins.......Seniors/ 1st Whyalla Solo Feature '99, 2nd Whyalla Solo Feature '97, 4th Murray Bridge Top Scorer '97.

With the desire to participate in the major events within SA, as well as willing to travel Interstate to gain experience on the bike, season '99/2000 should be well worth keeping a close eye on Shanan Wearne.
Sponsors and Supporters............
Headlamp Supplies (Joe for machinery, advice and guidance)
Peter Morris (engine tuning) DS Glass (Dave Schooling for Fibreglass products)
Marc and Catherine Pollett John Boulger Brendon Gledhill Graham Bysouth Mum and Dad
Date Track Results Comments
26/12/99 Murray Bridge SA 4th in 'A' Final
19/02/00 Tamworth NSW 1,dns,0,0,3=4 Aust. U/21 Champs
---
Western Australia
Tom Jacobson is very new to the Speedway game. However he has shown huge potential already within 1 year of racing.
Born in Perth Western Australia and just out of High School, Tom started racing in the Junior ranks in March '98 and immediately was addicted to the sounds, smell, speed and feel of Speedway Motorcycle racing. However, his chosen sport in W.A. does not offer much in the way of track or competitor numbers, therefore the Bibra Lake Speedway just out of Perth has virtually been the site of all Tom's experience thus far.
This young gun's best result to date was a very creditable 4th place in the '98 W.A. Junior State Championship, but as testament to his competitiveness, Tom expressed dissappointment with falling in the run-offs of that Title meeting where he could well have qualified for a position in the National Junior Title.
Formerly a BMX competitor,Tom now seventeen, has found himself temporarily living in England where his Parents were born and has taken up the sport in the form of a Conference League ride for Boston. Although the move is the result of family health reasons, Tom has been handed no better chance to further his Speedway career, and we all look forward to see just how that pans out.
Sponsors...
Stirling & Assoc. Real Estate Maddington M/C Wreckers Midland Smash Repairs
Progressive Sound Winslake & Lawrence Real Estate
Date Track Results Comments
11/98 Bibra Lake 4th W.A. Junior State Champs. Very good result for first season.
04/04/00 Kings Lynn f/exc=0 For Boston in Conference League versus Mildenhall. Injured and took no further part in match
---
Northern Territory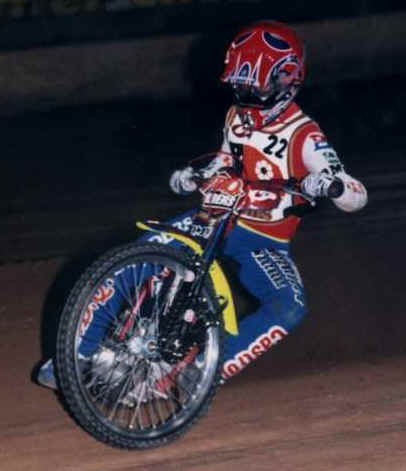 Brendon Mackay is one of NT's most outstanding and promising young riders. His list of achievements include being the Australian Under 16 Champion in 1996, NT #3 in 1997 and 98 and in 1998 at only 17 years of age he was equal 3rd in the Australian Under 21 titles held in Mildura last January, finishing ahead of Nigel Sadler. He has also enjoyed 2 tours covering NT and parts of Queensland with the Ivan Mauger International Troupe where he finished in the A final in the majority of meetings he competed in. His highest placing with Ivan was 2nd in the A final in Gove in 1997. Brendon's ambition is to race in England if he can ever get a work permit. Has now moved to South Australia chasing more meetings for experience. Should see a vast improvement in results.

Date Track Results Comments
25/10/98 Gove NT 9 points 3rd in NT Championships
16/10/99 Tennant Creek. NT 19 points. Top point scorer. Placed second in NT Championship Final
05/02/00 Gosford NSW 0 points. Australian Solo Championships.
19/02/00 Tamworth NSW 0,2,3,2,X=7 7th place in the Australian U/21 Championships.
20/01/01 Murray Bridge SA 11 points in the 'Jarrod Priest Memorial'. 6th in Final.
26/02/01 Gillman SA 9th overall in 'Jack Young Cup'.
03/02/01 Murray Bridge SA Reserve for Australian Solo Championships. Did not ride.
17/02/01 Gillman SA 1,3,f,2,3=9 points 7th in Australian U/21 championships.
10/03/01 Gillman SA 2,3,3,then crashed while leading last race. Broken arm and shoulder.
---